Thanks! It's Lion Brand Mandala Thick and Quick.
This hat is so happy!

One thing I wanted to do was use up all the small bits of cotton yarn I have that rent enough for a complete project. So I made dish cloths with random yarns.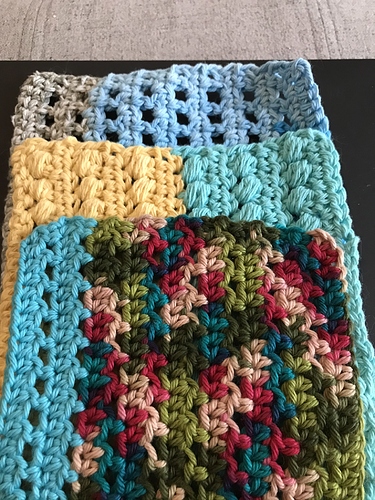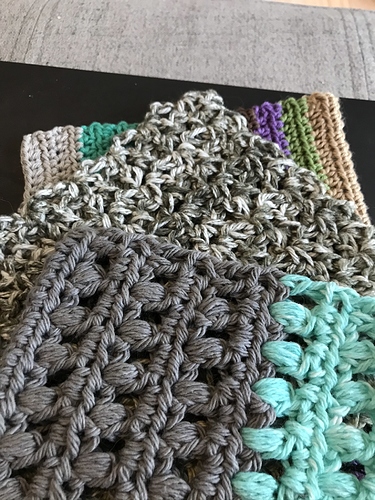 Since these aren't "pretty" I won't mind using them for really gross jobs like cat vomit and really greasy stuff.
This is called a bead stitch. I really liked it. A bit different than a puff stitch because you work around the post of a double crochet rather than work as a normal stitch.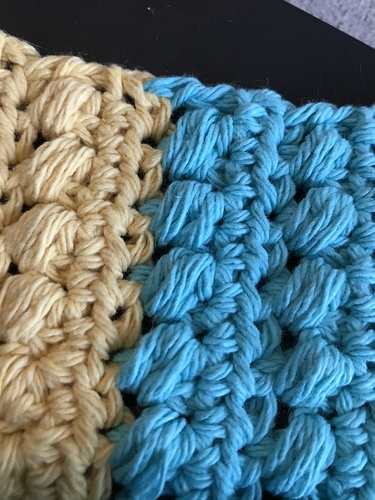 Oh man I wish I had been on here a little more! Life has been busy but I join a group on facebook that is doing a 52 week sew a long! So I will try and post here weekly as well. The first week was getting your sewing space cleaned up and right now the theme is UFOs. I might not follow the theme for each week but it will help motivate me!
@geekgirl Those are great! I only know the basic, basic, baaaasic crochet stitches and now I'm tempted to pick it up again and learn more!
My first finish of the year was for the Little Good Things swap and it was received yesterday. Here it is
Those washcloths are fantastic, @geekgirl! I would think that the bead stitch makes them great for scrubbing.
I love your cross-stitch crow, @Immaculata! So pretty and well-stitched. Crows and ravens are some of my favorite birds, too (even gave DS2 a name that means raven, and he is just as mischievous as his name would imply

).
I haven't posted to my facebook group yet. But I had found these two blocks during my sewing room clean up (they might be ones my mom made as the piecing looks a little more perfect than my usual

). The little green star is perfect size for a coaster and the squares is a nice mug rug/trivit size. So I did some quick stitch in the ditch and bound them. Now they are all finished!!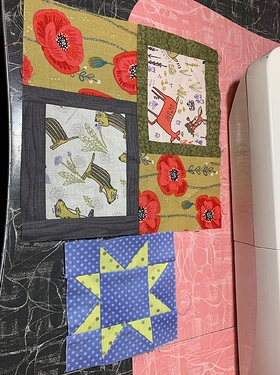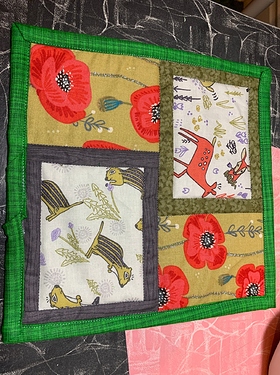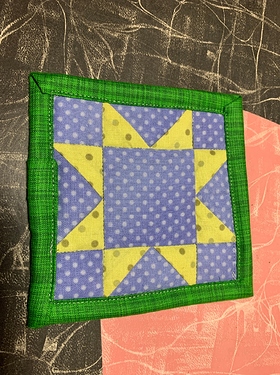 The dishcloths and the little quilting projects look so great!
Dishcloths are such a great way to practice! Who cares if they come out wonky!
Nice! I never know what to do with spare blocks from other projects…good idea to turn them into pretty useful things.
@AIMR thank you! And yeah I don't do a ton of big things so I like making little things like these.
So my mom and I have been getting into custom printed fabrics. And one that we really like is backstitch. Well awhile ago they had some retail and I was super lucky to score some of the Harry Potter jellypens as toddler toppers. So its just two pieces of minky that they print for you to buy and do a quick stitch and flip. So I did up this Honey Dukes one to give to my nephew. His mamas are Harry Potter fans so I thought it would be a good one for him.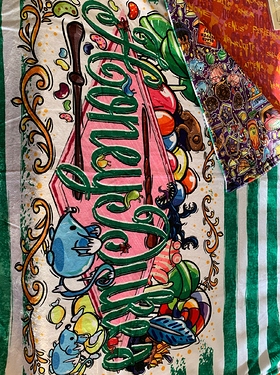 Finished my 2nd project of the year. Not the overalls like I was supposed to but I got sidetracked by a little felt/fabric snail. I should not peruse Etsy for cute patterns. Dangerous.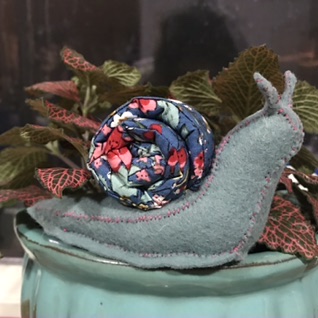 That is such a cute snail!!! I love it!
Sweet! Love the floral fabric shell!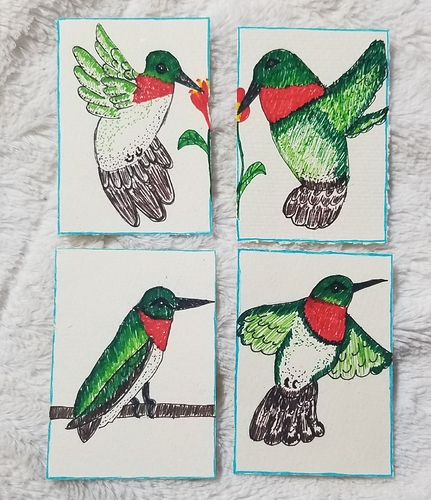 I created a set of hummingbird atcs for a swap on another site.
Finished my first project of the year!