Thank goodness you found it. I hadn't gotten around to snapping some pictures XD
I spent my craft time this week making Baby Yoda for my hubby.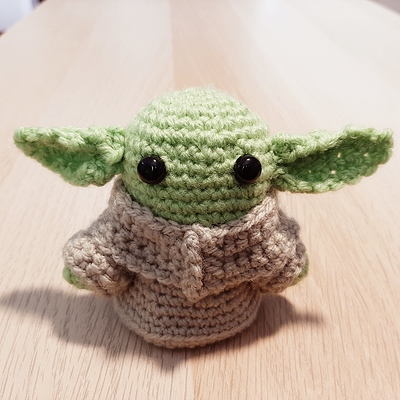 Turned out really cute!!! I love the ears…turned just right!
I made two giant pompons for my daughter. They are a sheddy fluffy mess. Lol next time i'll use a less fluffy yarn. I lost my head and used Bernat blanket yarn and it's just everywhere.
Good times, good times. She loves them tho, so it's fine.
That baby is perfect. The stance, too! Well done!
I finished my quilt top after being inspired by Edel's "Green Quilt."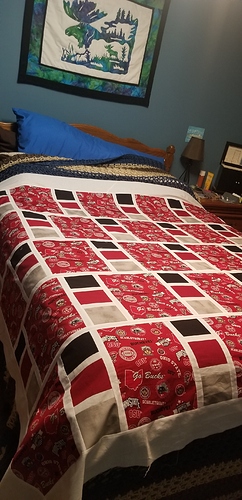 I'll make it's own post once it's quilted and bound.
It is really a nice size…and will become a cherished gift!
Awww! Cute little baby! I haven't watched any of that series yet, but I am loving all of the baby 'Yoda' amigurumi.
Awesome quilt top @Lynx2Lancer! I love the layout.
I've been working on a couple quilts, too. I finished up the tops and backs this week, but have to take a break before quilting to work on DS1's birthday present.
#1 Top:

#1 Back:

#2 Top:

Details:

#2 Back:

Holy smokes! The back on the 2nd is like a whole other quilt!
I ran out of fabric! I had to use all my scraps from the top - and the top of another quilt - to get enough yardage for the back. This quilt was born from the fact that Jo-Ann's had their fat quarters on sale for 99c, prints half off, and I had a coupon, too…no real plan other than buy all the pretty fabric.
That's the best plan there is!



Those are some pretty quilts!
I was fairly productive yesterday evening. I made this cute rain cloud purse that was in an old magazine. Yay for old magazines with cute stuff XD Most of the ones in our house has at least one thing we want to make. So maybe I will use them to find more projects to make.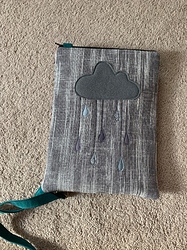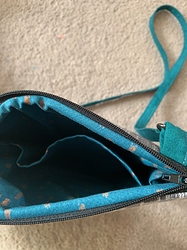 Really cute and functional…love that the lining is a nice bright color!
I forgot who on here also mentioned that we all need to make at least one thing out of our books and magazines or else chuck them or give them away…I am guilty of buying them for a cute thing and never making it!
Glad to see that you are doing it!
That is so cute! I find some of those magazine patterns a bit kitschy and sometimes cringey, but this is cool! Maybe I should try and make some of the early 80s magazine patterns with a modern eye and aim for rain cloud cool!
Thanks! There are some things that look a little silly but they have some cool patterns.
As long as no one makes and posts any creepy clown themed projects from said magazines, I'll be good.

I'm enjoying seeing all the quilting going on here, and am SO jealous of everyone's sewing skills!
Super cute!!!

The February Thing a Day has really challenged me to take some time each day to do something crafty! I made a little patch and decided it needed to be put on something. Since I am also trying to destash and use scraps and embroider something functional (whew!), this little pouch hit all the craftalongs!
Made of denim, hand dyed shibori, machine and hand embroidered, etc. etc.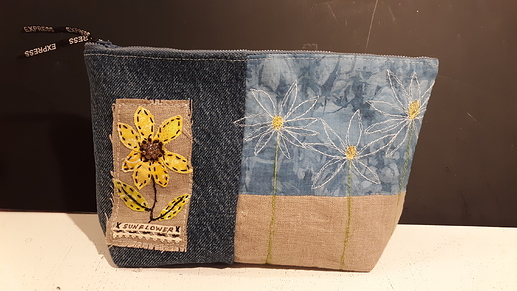 Lined with stash fabric in a happy yellow. Old metal zipper taken off a jacket.