That sweater is so sweet, and glad you could figure out the modifications to make it fit.
Everyone has such awesome projects!
I had forgotten my lunch bag at work yesterday so I made myself one last night. The inside has PUL which was not fun to sew with. But I really liked the fabric. I had gotten the fabric from the QA custom fabric group on Facebook before they closed down the beginning of the year. They were people of color focused and had some super awesome designs. I had gotten this fabric in a scrap pack so I wasn't sure what I got till it got here. I was super happy though because I loved the line it was from. Now I want to make some sandwich bags to match using the fabric. (Once I learn how to use PUL of course)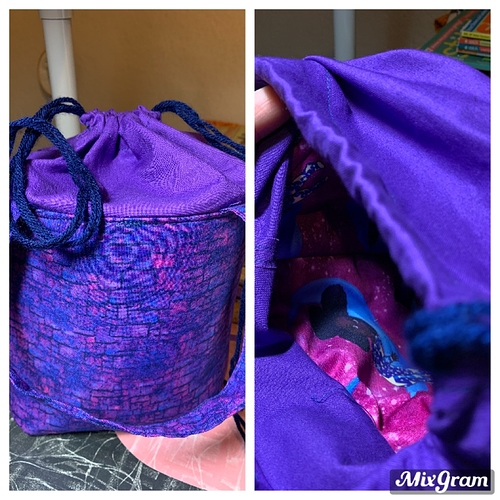 I love that your solution to forgetting your lunch bag at work was to just make a new one!

It turned out beautiful!
Wow! First- it looks great, nice colors and design choice.
Second, I love that you just whipped one up. Me? I'm scrounging for some leftover bag from anything else if we forget one at work. (Sorry, honey, we need to eat more toast, daddy forgot his lunchbag and I need the bread one to pack him his snack.) haha!
You are a bada$$!
40 projects down!!
1. Simple sack

2.
Purse tissue holders (2 complete)
3, 4.
Twin onesies!
5.
Pajama mends/alterations
6.
Valentine cake pops
7.
Play-doh valentines
8.
Color in a box swap - Bookmark
9.
Color in a box swap - Keychain
10.
Color in a box swap - Pop-up trashcan
11, 12.
Color in a box swap - Jade patch, Lettucecraft patch
13
Color in a box swap - Glasses case
14.
Color in a box swap - Dragon dice bag
15.
One tiny thing swap - Harry Potter books & chest
16.
One tiny thing swap - Mini Amazon box
17.
Birthday
Cake pops
18.
Triangle mini quilt
19.
Quilts for Llama
20.
Mask
21, 22.
Sunshine & Cheer
quilt label, quilt
23.
To do notebook
24.
Morewood Mystery Quilt pieces cut
25, 26, 27.
I-Spy
quilt label, quilt, pillowcase
28, 29.
Morewood Mystery Quilt blocks - September HSTs & October Irish units
30.
Halloween g-tube pads
31.
Ongoing ornament swap -
Snow globe Christmas ornament
32.
Ongoing ornament swap -
Dapper bird ornament
33.
Ongoing ornament swap -
Crochet lover ornament
34.
Quilted Halloween table runner
35.
Ongoing ornament swap -
Hummingbird ornament
36.
Ongoing ornament swap -
Camping ornament
37.
Ongoing ornament swap - Dino baker ornament
38.
Anniversary
Cake pop truffles
39.
Ongoing ornament swap - Masked gingerbread man ornament
40.
Wonky cuffed slippers for Av
TO DO:
Gnome quilt (in progress)
Quilt as you go sewing tote bag (in progress)
I-spy quilt
California tea towels
Christmas tea towels
Triangle quilt
Quilted Christmas table runner
G-tube pads (everyday and Christmas)
Quilt from kit
Pop-up trash can
Under cover sewing machine cover
Embroidery machine cover
Silhouette machine cover
Fabric book - Little Monster
Fabric book - I Ruff You
Elf doll
Bowl cozy
Bridget's bagettes
Another simple sack
Boardwalk quilt
Heck, I'll be happy if I get 20 of those done this year. I'll continue to add as I complete or come up with additional ideas. I love that I'll be able to look over my list and see completed items as well as link to posts of my completed projects so that I can have an account of what I've made.
I agree wholeheartedly with your statement!
As for you not finishing anything, I have to disagree - your projects have been all over the cutting machine board. I think you've completed more with your machine since the start of this year than I did all in total last year!
But, regardless of how much you have already completed, I understand feeling like you aren't getting much done. Sometimes it's nice to do a quick and easy project just to have something finished.
I can't wait to see the completed versions of your in progress projects!
@LuckyXIIICreations @Reinikka @AntBee thank you!!
Part of why I chose to make a lunch bag was that I had been wanting a new lunch bag. And I've been listening to a podcast and sewing is a good thing to do while listening to a podcast.
But @AudiobookLover, I haven't finished a paper project in over two weeks! That last one I just waiting to post hoping it had been delivered to the recipient who is a member!

I have received word from someone whose word I was waiting on for one project, so today get to get back to that. WOO!
I have wrapped 2 wreaths (they are not finished), and cut and stabilized a ton of soccer jerseys for eventual quilts.
Today, I finished The Adventures of Soft Kitty Turned Magnet)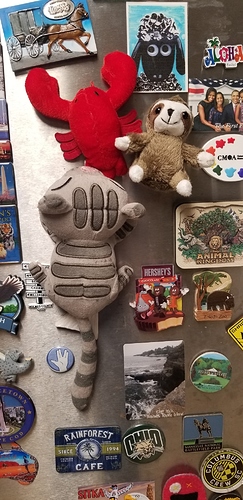 MARCH CONTEST
A simple contest with everyone having a chance to win. It will be a random drawing but here is how to up your chances.
You can enter only ONE (1) project per week. If you make small items, it will be counted as one project if you post as one…you will be given up to 5 points if you make 5 of them. The most you can get is 5 points per week.
If you enter all 4 weeks, you can pick another project to enter for a total of 5.
Each project you enter will get points:
Small (<1 hour) = 1 point
Medium (1-3 hrs.)=2 points
Large (3-6 hrs.)=3 points
X-large (>6 hours)=5 points
You must state how many points you are going for on your project.
Example: Shawl - 5 points
At the end of the month, you will get one "ticket" for each point. I will do a random drawing from the tickets, so the more you have, the greater your chances! Pick your best projects with the higher point values or make a lot of little projects, etc. Your choice!
You can exchange one project previous submitted because I know how you guys like to randomly do a project that was not planned!

The prize will be a $25 gift card from Amazon or any other online store you would like. International members will get the equivalent of $25 via paypal or online store.
Get crafting! March is a long month so plenty of time to rack up points!
I'm playing catch-up and have some pics to share of February projects.
Some duds for the 19cm doll:
A batch of dresses for the 16cm crew:
Something for the 12cm gal. This was my first time using lawn and with such tiny seam allowances I spent a lot of time fishing fabric out of my sewing machine's feed-dogs. This itty-bitty thing caused enough frustration that I'm going to count it as a separate project rather than wait for a batch of three.
A test pattern for the 60cm doll. This girl is huge! After my usual tiny dresses the mind boggles at how much fabric she's going to use.
That's all for now, I think. There are a few stragglers still waiting to be batched up, but they'll probably be caught up in future updates for March.
…faintly boggled at the idea of a standard SD-sized doll using up a lot of fabric. (Ok, I mostly sew for humans.)
Most of my last week was swap stuff, so nothing to show until I actually sort out pictures of birthday party crafts which are still in the bag that came home from the nature center while this Cold of Doom tries to weaken our lungs before the coronavirus even gets here.

(I tried to walk my child to school this morning, got to the top of the hill, & had to sit down b/c I'd run out of oxygen. Ugh.)
Got it done and it fits!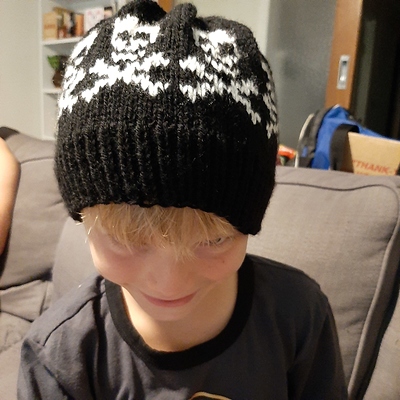 Skull and crossbones knitted hat
He looks so cool in that hat…and oh my gosh…he sure has grown!
I am glad that you stuck with it…do you feel more confident now to do more?
You are just cruising along with these projects, at #43 already! It is a lovely shawl. I'm currently practicing my crochet skills on a doily.