Thank you! It was fun to do!
Yesterday my husband and I finished my F&D Q1 2020 contest entry!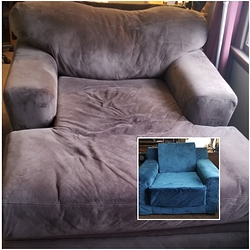 Each time I see this picture, I admire your strength and tenacity…you are a problem solver and while you have your doubts and fears, you continue forward…this project got done…I would vote you as leader in any type of disaster situation…you have those skills to motivate and get 'er done!!
I've been holding back on showing this one back it was my fall back project if my couch project hadn't been finished in time to submit for the D&F contest. It was, so now I can share my soccer jersey wreath.
I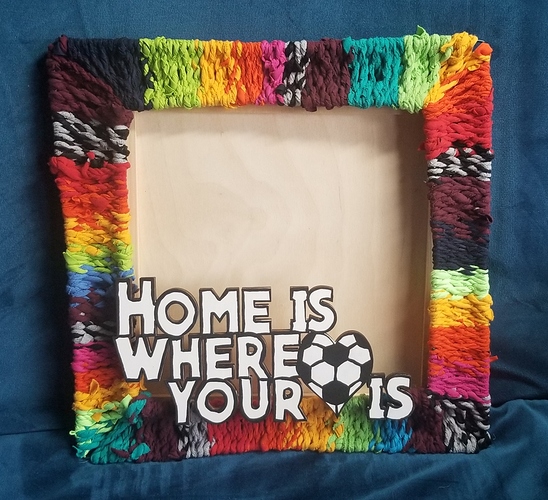 I finished my DS1's birthday present! He loved it. thread. Now, onto some quilting!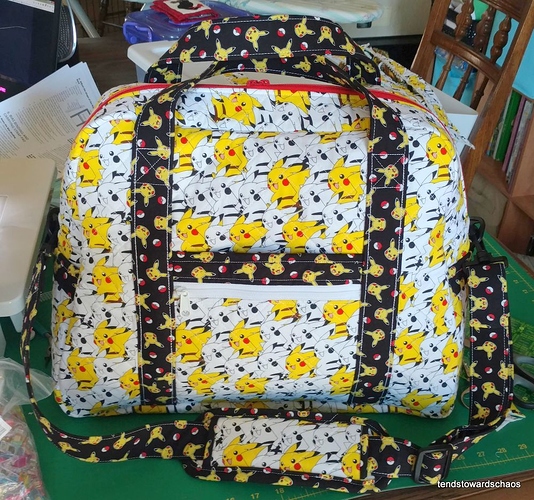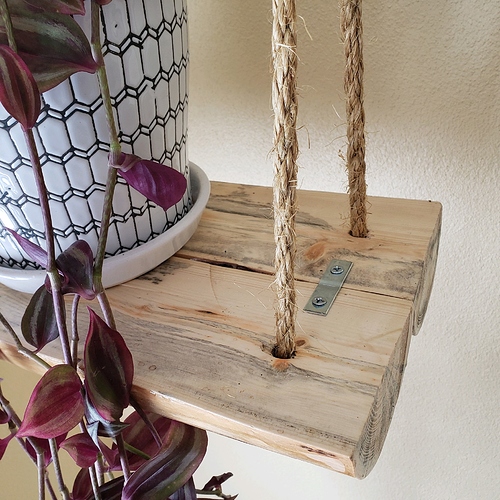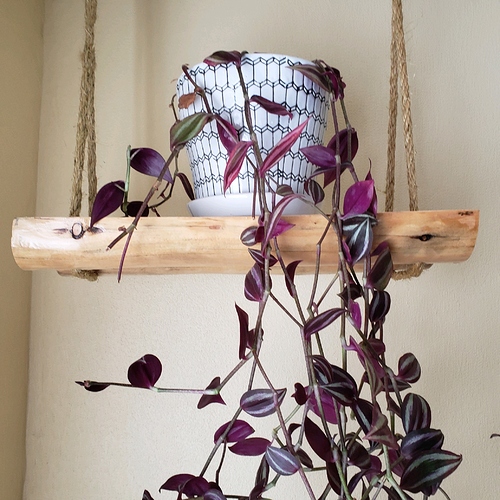 I've finished my second project for this year, and it took me a lot longer than planned. I started it last July/August at my parent's cabin. The Roosevelt fire in Wyoming was close to their place, so they've been clearing a lot of timber off their property and I scored some free peeled logs from my dad. I made this shelf by cutting a log in half, sanding, and coating with three coats of poly (and sanding between). I did the first two coats over the summer, but forgot about the project and finally did the third this weekend. i secured the two pieces together with a metal joiner and then used sisal rope to hang it from the ceiling. I kind of wish I'd made it a lower shelf so you could see the blue in the pine caused by pine beetles, but overall I really like how it turned out.
I love seeing reclaimed wood projects! Your plant shelf is lovely…I love that you used a clear poly to show off the knots and holes…
Holy smokes! 50 already!?
Good for you!
That piece makes me smile!
That is so cute!!!
I love those happy colors! And elephants always bring a smile…
@Immaculata Your little elephant is adorable and charming!
I just keep adding to my original post and have now finished 31 projects! I'm sure I'll have times of way lower productivity, but I'm kind of astonished. Of course the paper projects go pretty quickly so when my creative attentions shift focus to whatever is next.
Get out! Those are just too much! I love them!
I got a little bit waylayed on my 50 list, but I'm back in action! I have been in a bit of a crafting slump; without swapping I have to make myself craft and that's not as easy as I had thought! Plus, I can't access LC at work, but now that I'm home, I will be in front of a computer and will be able to check it more often.
And it was totally worth the wait! I love the beautiful wood. I also love the way the pop of purple from your plant looks with the bare wood. So cool.
50 already!?! I need to do some catching up, for sure!
That elephant is soooo cute! I love the color scheme too. Very bright and happy for sure.
Those onesies are adorable! I'm definitely behind on my 50 as well, but there's plenty of time to catch up!