Thanks so much for all the info and encouragement! Maybe I'll get into making ATCs!
YES, PLEASE! That would be so terrific.
This one is for the last Little Good Thing Swap! I look forward to getting feedback after my partner receives, but it's a couple of days before I send and it's going to Germany, so that could be awhile.

I will say it's mixed media, though.

@TheMistressT I was thinking of carving a stamp if I kept up with them. I always forget to sign my name to things, anyway, so it would help.
@Magpie this is helpful - thank you!
@JoyfulClover That's a great idea! Still handmade, but quick and consistent.
Here is the back of a card I made in August as an example. I keep it pretty basic. Just a title, my name (sometimes I include my last name) and username, and the month+year I made it.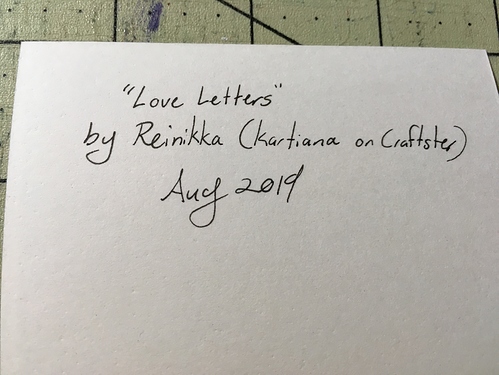 When I receive cards the thing I want the most on the back is a name and username of who made it, everything else is just gravy to me.
Thanks for the example pic!
I think part of my challenge of really "getting it" with this is that using the back as merely a place to put info seems like a lost opportunity for more decoration! I tried to combine some decoration with my information and will post a pic once it's received!
I am lazy (& often working with only small spaces that aren't sewn, when I do embroidered cards) & just put "thanate [month]/[year]" on the backs of mine. And a title if the card has one, but I don't always name them. One of the reasons I never got around to any ATCs for all swaps is that they want real name & username, and it just felt weird.
Plenty of other people do this, too.

@thanate I think you've touched on one reason I have not gotten into making these even though I love seeing and am inspired by all the cool things people make. I don't think of myself as an artist or my creations as art for the most part. Not in a self-deprecating way at all, just that what I make is mostly either practical or decoration. So faced with an empty space that I can't see a practical use for… l just get no ideas!
But then I can't figure out which side to display! And if there is a creature of some kind, well them that's just unfair. I can't have favorites!
Oh, but you are!
The backs of my cards look practically identical to @Reinikka's card. Handwritten with title, date, username.

@thanate, yes, same. Some sites have a crazy amount of details they want like address etc. That's just too much I think. For those other sites that require real names, I'm thinking of either adding first name + last initial or just last name for the "real name" part for my cards if I start swapping on the other sites. I won't add my mailing address on them though etc, that's overkill and feels invasive.
@TheMistressT, Your creations are art and if you make art you are an artist! And the people here in the ATC swaps are very kind and I'm sure will really enjoy your creations!

I know the imposter syndrome feeling is real, I feel it all the time, but all I can say is that making art from your heart feels good and try to focus on that feeling instead of the imposter feeling.

There is a great piece from Ira Glass on making stories but it applies to anything creative like art, that talks about this feeling. This feeling of a gap of where you don't feel like what you made lives up to what is in your head. But don't stop being creative because eventually with enough practice you'll close that gap.

direct link:
https://vimeo.com/24715531
The practical use of the back side is just information and that is perfectly ok!

Its just so your recipient can remember who made the card in the future.

What @JoyfulClover said!

You all are so sweet! I want to make it clear that I do not feel my things are less than art or that I am less than an artist, just different. I have made a few things that I consider close to art and those are mostly because I went at them with an intention to say something or make a point or express an opinion. In general, I make things to solve a "problem." Like we need something to wipe our hands and mouth on at dinner, so I will make napkins. Or my friend has a birthday coming, so I will make a card and a gift. These go with what is merely my opinion about art and only has to apply to me!
Oh, ok, gotcha.

I think I misunderstood what you were saying about doing art, but I understand now.

This is a great idea; maybe carve a frame or something? And then just fill in the deets!
Back when I would do ATCs I would usually sign, date & number the cards on the back (sometimes give it a title). I also have a stamp that gives slots for each of the items which is cool, but it is stamp then cut out which is sometimes too much, lol.
I think this is what stamp I have…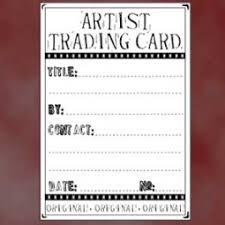 Cool! There are some really neat stamps and printables out there for this!
Dipping my toe into ATCs is on my to-learn list. There are some items I've received in swaps which I forget who they are from, so the stamp on the back would be extremely useful. I wish I had kept better track of the sender's card and pinned it to the item.