Have you guys all seen this. It's excellent
Sorry about that, I need to read better

! I will find another prompt for it

Fixed-using the detention stash prompt.
A new Headmistress Challenge has been posted! And no, it's not an April Fool's prank. It's a real challenge.
Thank you for sharing! I need to make some! My mom, whom I share a house with, started chemo and radiation last week, so we all have to be extra careful now!
Hi everyone! Life has been crazy in the past month. Not just with coronavirus but also because we found out my mom had a brain tumor at the end of February and had 2 brain surgeries. We found it its glioblastoma, which is the most aggressive type of brain cancer. She started M-F radiation last week and daily chemo pills. My family shares a home with my mom and dad, so we all have been extra careful and pretty much locked down. Life threw a lot at us all at once. I'm finally starting to peek up a little and get use to what life is giving us. I've been taking my mom to daily appointments and taking care of kiddos and house. BUT I've managed to get a little bit of fun in, too! (sorry for the novel, but I love you guys and wanted to tell you my news,)
~ ADVANCED STUDIES PROPOSAL ~
Project Name: Castle cross-stitch
House: Hufflepuff
Brief Description: I contacted abbeeroad about my project. I started it last year and I'm about half way done with it. Its a big project and i'm a slow stitcher.

I had set it aside, but I'm finally starting to make some progress on it again. I bought the pattern off etsy last year. It is a cross stitch pattern that uses two strands of thread on a cream fabric.
Here is my starting point: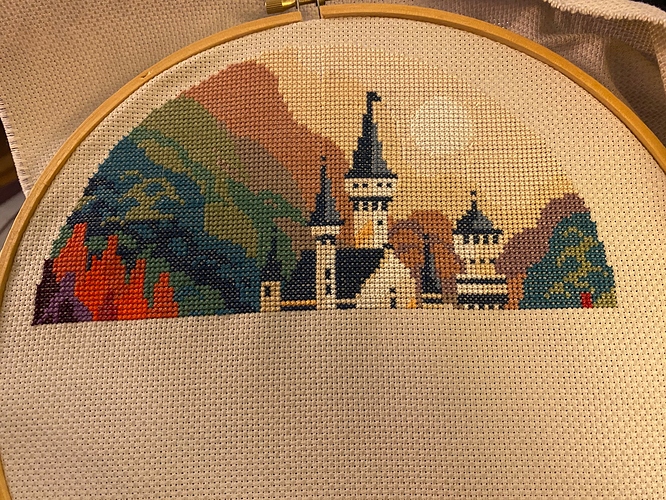 Wow, Jillybeans. I can't imagine how stressful and worrisome this time is for you and your family. Sending big hugs, you are in my thoughts.

Your cross-stitch looks like it will be amazing.
Brain tumor is horrible, and it happening with the virus is even worse. Good luck with everything, your mom, the kids, the house. Stay safe
Class or Challenge Title: Apparition
House: Gryffindor!
Project Name & Page Link: Sylvia & Socrates Squirrel Lanterns
Brief Description: Confession time: A few years ago, just after I had gotten my Silhouette, our annual April Fool's fun came around, and I waited too long to decide what to do. After all, I had this cool new cutting tool! All I had to do was take it out of the box and let it craft for me, right? Wrong. I had 2 major craft fails that day, and became rather frantic about it. In the end, I managed to make 1 or 2 small projects, but I did NOT make friends with my Silhouette that day. So this year I decided to right that wrong, by making a perfectly finished, not-at-all-shoved-way-down-in-the-trash craft project with my machine. I created two paper lanterns of cute little squirrels.
Project Picture:

Class or Challenge Title: Charms
House: Gryffindor!
Project Name & Page Link: Dougie the Derpy Worm Bookmark
Brief Description: Bookmarks are a lifesaver for lazy readers. Letting you find where you left off in your book, rather than having to page back and forth to find your place.
Project Picture:

Class or Challenge Title: Make Your Own Holiday
House: Gryffindor!
Project Name & Page Link: Bangers & Mash with Buttered Peas
Brief Description: Despite social distancing, my husband & I made our own fun holiday on St. Pat's, complete with delicious Irish bangers.
Project Picture:

Class or Challenge Title: Make Your Own Holiday
House: Gryffindor!
Project Name & Page Link: Bunnicula & Bunny Bok Choy Earrings
Brief Description: April Fool's fun to cheer us all during the pandemic. I created a quick project of Bunnicula, by decorating a rabbit figurine I found at Target many weeks ago. Back when you could decide to just go to Target. And a set of bok choy bunny earrings made with lampwork glass beads.
Project Picture:







Iron Chef Hogwarts April Secret Ingredient: Pickles
There's more to pickles than a side for your burger! How about as a topping for cheeseburger soup? Or maybe dill pickle hummus? Definitely these fried pickle poppers!
@GMPNQ and @jillybeans - your advanced studies proposals have been added to the project log! Good luck and happy crafting!
class DADA
house ravenclaw
Project pea and potato curry. This is a madjur Jaffery recipe and it always tastes fab. It also keeps for a few days and is really easy to reheat in a microwave. I used sharp and pointy knives in it's preparation. Recipe Link
Picture
Advanced studies challenge for my NEWT steampunk costume, I have been working on this hat and I I made the skirt.
House ravenclaw.

Class SOAR
House Ravenclaw
Project this lettuce craft cross-stitch ,each stitch has four corners

Hermoines book club, Diagon alley
House Ravenclaw
Project bread. I have been making all the bread! I am the bread maker in chief in this house, they expect it of me. I have been using mostly no knead recipes. https://cooking.nytimes.com/recipes/11376-no-knead-bread This was todays, I added wild garlic and shallot. But I also made a challah last week. I used this recipe https://www.reddit.com/r/breaddit/comments/2xi1lk/perfected_challah_recipe/ but I don't have a mixer, so I kneaded it by hand.

@Edel, I'm totally going to make that curry. FYI, I edited your post to remove the picture of the recipe, and replaced it to a link to the recipe online.

Reminder to EVERYONE IN THE CRAFTALONG: Please remember that LC does not allow you to post pictures of copyrighted material that doesn't belong to you, such as a recipe in a cookbook. That published work is protected under copyright. If you are posting a recipe that came from a book you have at home, do a quick google search and see if you can find the same recipe hosted elsewhere online, or even a very very close version of what you made.
If you altered a recipe, you can post YOUR altered version, written out in a post. But it has to actually be different, and not be cut & pasted from the owner's site. For example, cutting & pasting a recipe exactly, then writing 'I left out the cumin' is not enough. You'd need to have changed an ingredient or more, and written your directions in your own language.
Cool, thanks for that honey. If you do make it, bump up the amount of mustard seeds. I use 2tsp.
And no more photos of pages from me

Wow, so many wonderful projects Edel. I Love the steampunk costume

Hey friends, thought I'd throw this out there. I am supposed to close the signups for the Go Bananas Swap today, but I have an uneven number of swappers! The point of this swap is to get to know, and then to spoil your partner, and go bananas crafting something really lovely for them, so I'd prefer not to have to do a round robin. I want folks to really be able to interact with one another. Anyone interested in playing with us???
**Class or Challenge Title: Alchemy
**House: Hufflepuff
Project Name & Page Link: Moon Shaker Pendant
Brief Description: I'M BACK! And playing with resin! This didn't turn out as nicely as I wanted, but it's only the third resin thing I've really made.
**Project Picture:

There is a new Lettuce Craft site-wide Challenge…
Lettuce Help Our Communities Challenge
Remember, participating in LC challenges gets you 10 bonus points per submission. And items donated to charity gain another 10 bonus points! If you are out of prompts to submit, you can always submit masks and caps under simply "SPEW" for just the bonus points.
Have you guys seen this hogsmeade booknook? It's flippin amazing!!
@wulf @racky and any of you other miniature builders. If you look at this, I have questions about the materials used. What's the starting material-foam core board, mounting board? What is the blue foam he's using called? What's that modelling powder-he flashes it too fast for me to see it. And the wood is balsa wood I'm guessing?