Gorgeous yarn! What is it, did you dye this yourself?
You are a hooking machine grrl! I don't think that's Lion Brand Mandala but maybe I'm wrong and it just looks different with this pattern as compared to the virus shawl?
Of course it is Mandala

Thanks, Jennie!
Hee hee! I have a stash beside the bed to start working with too. I think I chose the Easy Breasy pattern myself. I'm not ambitious enough to try any death heads, not this time anyhow.
Nice! Looks like a tv watching pattern. I love those.
No, I bought it from KnitPicks - it's the KP Brand Palette yarn in Clematis Heather which is more of a slightly grayish purple with lovely flecks of other rainbow colors subtly in it.



At work now, but at night I've been stitching away at the skully shawl. I'm halfway through the 4 skull repeat, and it maxes out at 5 before finishing so I'm blown away at how quick this works up. I'd be surprised if I'm not done by this weekend! Definitely an awesome pattern purchase

Wow, you are flying through that!
Can't wait to see it! I don't know about you, but I felt the need to keep going and usually end with 7 skulls across the top before doing the last rows. Probably because I prefer the larger size or, more likely, want to use up as.much.yarn.as.possible.
I was wondering if it was going to end up big enough. I think I am familiar enough with the pattern now to be able to add on the extra row of skulls if I don't think the shawl will be as large as I want it…and I do have more yarn, so yeah, good call! I'll probably do that too!
Not the most amazing picture, I apologize. I'm stuck with my crappy cell camera until I get around to replacing it soon.
Crochet Shawl-Along Challenge Entry: Purple skulls breezy shawl
Pattern Used: KOPF-TUCH
Yarn Used: KnitPicks Palette yarn in Clematis Heather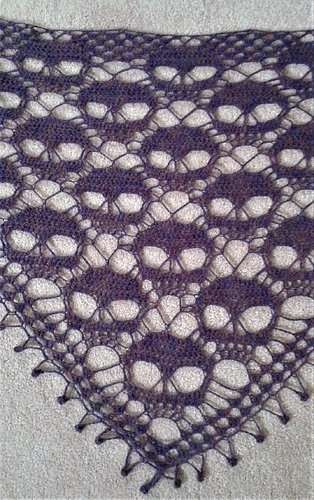 @sheepBlue, that came out so well! Your skulls are so CLEAR. Beautiful work.
OH NO. And so close…
Looks amazing all the same!
I ended up skipping the very last row, and on "my" last row, did 2 DC per cluster instead of 3. Worked out ok.
Oh this sounds fun. My stash is… ridiculous. I'm seriously out of control. I'll check Ravelry tomorrow and see if I can spot a pattern I like. There was one in the top 20… foraging or something? Hmmm…
I love the gorgeous rainbow shawl with white (almost lacy looking) edging. That one makes me so happy!

I have some of the whirls an haven't found the right project that seems like a good use. I just need to suck it up and USE them! I like the look of the WIP in greys, will love to see how it comes along as it works up. OH WAIT! I did use the black - to - greytone for my skull shawl, now that I'm thinking of it

The WIP skulls are awesome - that combo of something sort of goth + crochet is something I just love. These WIPs look slightly different, not sure if it's a different pattern or just the colors and textures throwing me off. I'll have to go back and look at mine. (ETA - totally different pattern). I love, love, love the delicate little bobbles and fine light weight of the one you did, @sheepBlue - @pottermouth those colors are so vibrant, yours is giving me very 'day of the dead' vibes!