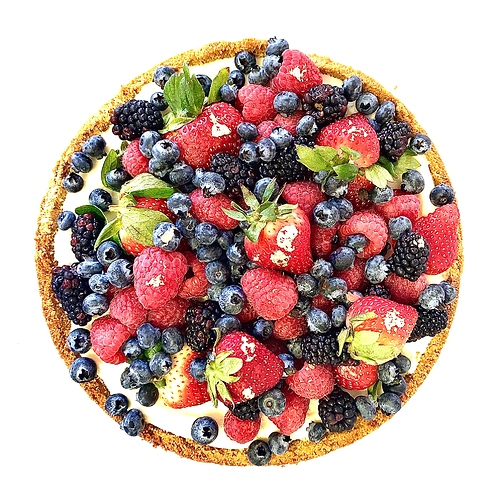 Hi all! I had Christmas brunch (which ended up being at 2:30 pm

) at my house this year with my parents and my brother and sister in law coming over to spoil my rotten (and precious) children. We made usual TX breakfast fare like eggs, bacon, biscuits and gravy, and bloody marys. But for dessert I made Nigella Lawson's easy fruit tart with a few modifications.
I used enough butter (probably a whole stick) to make the crust really stay together and baked it for about ten minutes in a 375 oven rather than keeping it uncooked. I also added a good quarter cup of sugar to the filling because the jar of lemon curd I added (Stonewall Kitchen) is pretty mildly sweetened. I couldn't find any currants, but I added a touch of gold leaf to some berries to dress it up. It's a relatively cheap way to make people think you're super fancy.

Edible Gold Leaf Gold Foil Sheets 4.33 x 4.33 cm 24K Pure Genuine Facial Edible Gold Leaf for Cooking, Cakes and Chocolates, Decoration, Health & Spa (10 Sheets) https://www.amazon.com/dp/B01GOFXI8K/ref=cm_sw_r_cp_api_i_uApdEb82CMWES
This is the brand I use, and I've made four desserts so far, with two sheets out of the ten left.
It was delicious!