Oh, Erin, I am so, so sorry for you both. Thinking of you.
@ErinAquaheart I'm so sorry to hear about MommaAquaheart. Sending virtual hugs good vibes your way. Please let us know if we can be of any help!
@Audania I am mesmerized by the edging on your beautiful blanket. Does that stitch have a name?
Class/Challenge: Hagrid's Tree - Fake Snow
House: Hufflepuff
Project Name & Page Link: Mom's Pencil Pouch
Brief Description: I made my mom a pouch using this super simple tutorial - Just felt, fabric, and a zipper and no fussing about exposed seams inside. It almost feels like you're cheating.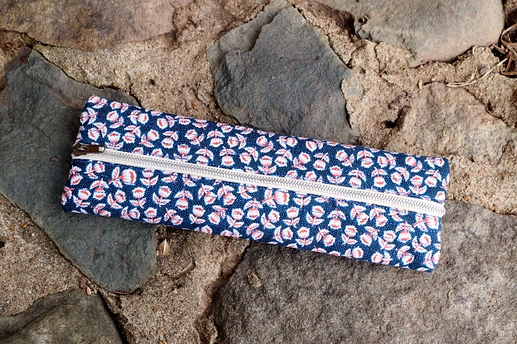 Thank you all so much for your sympathies. We truly needed to hear them right now. The funeral is on Saturday and MommaAquaheart requested often a New Orleans jazz style funeral with lots of dancing and fun. So we are going to get as close to that as possible. These past few days have been tremendously difficult. Hopefully a jazz fest will bring some light into this dark time. (And we are having a Cajun food reception after the services)
Sounds like an awesome way to celebrate her life!


Headmistress Jennie casts the House Points Charm!

@imera, your post of the Hogwarts House Points Miniature cannot be submitted as the Headmistress Hogwarts Castle prompt, because you already submitted that one for bonus points (75 points) just before Craftster was closed down. For now that item hasn't received any points. But you are welcome to submit it under another category if you wish. If you do, please let me know so I can make sure to get you your points.
I'm a little lost, so here are my comments/questions:
I posted it here as a repost as you said I could, so I didn't try to gain more points. (I also forgot about the extra points, thanks for the reminder). But the extra points were for the Headmistress challenge, wasn't it?
"For now that item hasn't received any points." - Did I lose the points?
And I don't understand "submit it under another category". I'm certain it was submitted for the Headmistress challenge, and that the extra points was for that challenge, and the Headmistress challenge projects can't be double posted in another category, as far as I know.
Class or Challenge Title: History of Magic (HoM)
House: Hufflepuff
Project Name & Page Link: Big Foot wall hanging
Brief Description: Big Foot evokes memories of living in Washington state. There was an annual Big Foot festival complete with stories of sightings and even a traveling museum of cast footprints and hair samples. Big Foot is real, and my time in the Pacific northwest was one of my favorites!
Project Picture: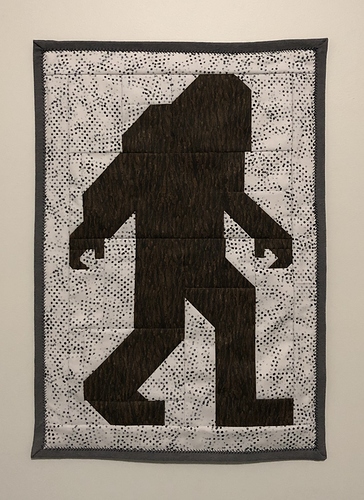 Hi @Donna, That wall hanging is lovely! If you're looking for more projects to post today, don't forget you can count things you made from October 1st to January 1st for most of the class prompts. There are some date restrictions for the Headmistress' Challenge and Hagrid's Christmas tree, but still plenty of prompts to choose from. We can continue to submit prompts until midnight (central time) tonight. I know I'm going to be scrambling to track down and photograph a few projects this evening!
Love Big Foot! Have you listened to the Wild Thing podcast @Donna? Super fun.
My last post of the term. I have my whole world crashing down this week. So I had to take a little time to art therapy myself.
Challenge: Hagrid's tree-ribbon
House: Slytherin
Project Name: Orchid Girl pinup
Project description: anytime I work on my Teddy Cuddlestuff series it is tying into my larger concept. This piece matches my pansy pinup girl. And will be part of a triptych that I am working on.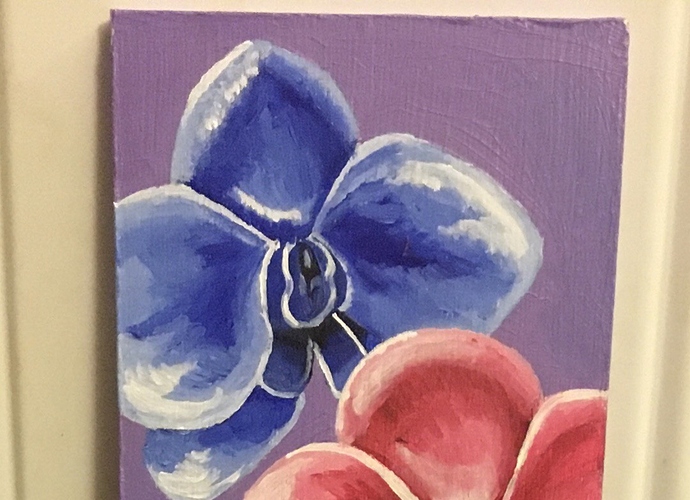 Class or Challenge Title: HeadMistress: tree skirt
House: Slytherin
Project Name & Page Link: stuffed animals hammock
Brief Description: functional (i hope) and decorative is this wee, awkward, net i hooked up for my daughter's room. I'm not in love with it- i intended it to be more like half a square i think rather than this weird shape but, eh, we'll see how she looks once installed and full of friends.
Project Picture: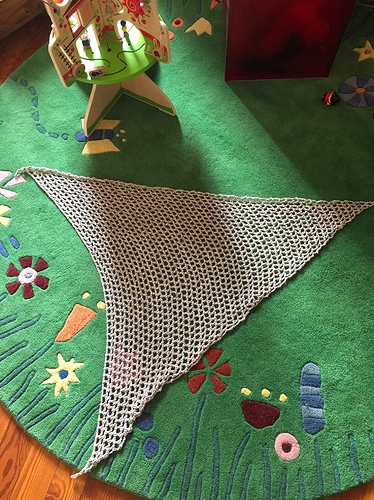 *poof *
Update: I set it just with tape to see what it would look like where i want it and it might actually work, just not for the quantity of stuffies i had hoped to house there. Here it is modeled by the lightest friend i could find: Sloth Lovey: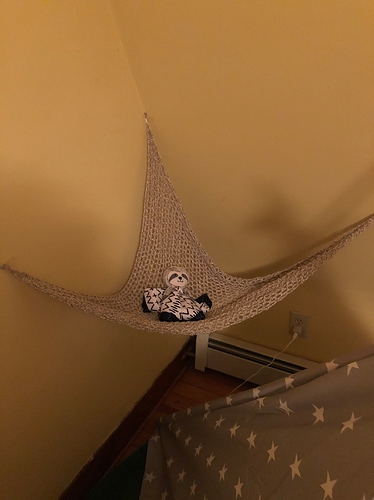 Look at that little face!
Oh Ant Bee! I have one of those on my to-do list!! The stuffed guys have taken over the room, lol.
And she's getting so big!!! AH!
Thanks, guys!
I'm going to poof the pic shortly, I don't like to leave her wee face up for too long… (i know once it's up it's somewhere forever, but it makes me feel a little better. lol)
I saw the pic before it was poofed, really cute

Class or Challenge Title: ~Iron Chef Hogwarts~ Cabbage (Jan. 2020)
House: Ravenclaw
Project Name: BBQ Sauerkraut and Sausage
Description: Whenever my mother made barbecued pork or sausage, she would make bbq sauerkraut with the meat in the same pan. She had a simple recipe of ketchup, brown sugar, water, and a little vinegar for her sauce. The kraut was well drained and rinsed before adding to the pan. She simmered it all and the aroma filled the house, making our mouths water in anticipation. There were never any leftovers.
Recipe: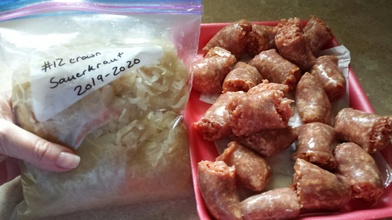 1 package of mild rope sausage, cut into 2 inch lengths (approx. 2 pounds)
1 package of homemade sauerkraut (approx. 2 pounds)
Sauce: 1/4 cup brown sugar
3/4 cup ketchup
water to make desired consistency
1-2 tsp vinegar
Mix sauce ingredients together until sugar is dissolved. Taste and alter amounts to your preference.
Brown the sausage chunks. While cooking, rinse the kraut well in cold water and drain.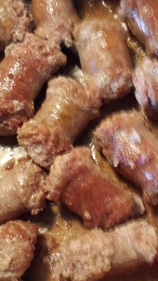 Add the kraut to the sausage. Pour the sauce mixture into the pan.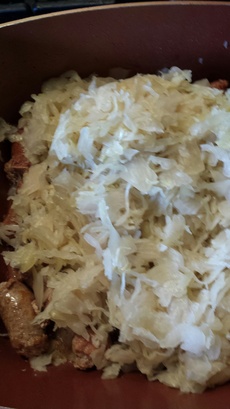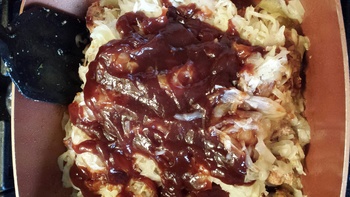 Stir well. Cover the pan, turn heat to low, and simmer for 20-30 minutes. Stirr occasionally.
When finished, the bbq sauerkraut and sausage will look like this: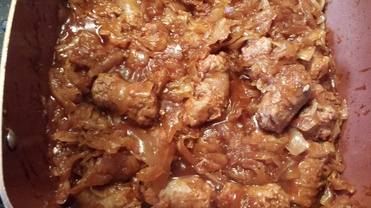 It tastes delicious!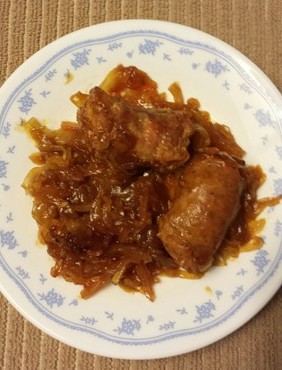 Options: Add sliced onions, green pepper, or shredded purple cabbage to the meat and kraut. Cook all together. @KaeGalla
Class or Challenge Title: Arithmancy
House: Slytherin
Project Name & Page Link: Gnocchi
Brief Description: I've wanted to try out home made gnocchi for a few years, it was finally time so when I boiled some potatoes I made extra. It might be a little hard to see but I made groves and ridges in the gnocchi using a fork. Once they were boiled I added them in a pan with garlic and thyme browned butter. Now that I know I like gnocchi, and my son loves them, I'm going to look into a gnocchi board.
Project Picture:

Class or Challenge Title: Charms
House: Slytherin
Project Name & Page Link: Fake frosted window
Brief Description: I like townhouses, except that on my street I feel there are too many who walk past my house, and the neighbours are too close. I don't want to have the curtains closed all the time, or blinds, and I certainly don't want to waste my time on silicone things that are attached with water, or even the tape kind. I remembered my mother-in-law linking me an article about using sour milk (not milk that has gone bad), and after some googling I found out that people have also used yogurt.
Anyway, I had some paint rollers, and some yogurt, and decided to try it. I wanted to make it a little more fun and so used tape to make the pattern, before I painted with the yogurt. Once it was dry I removed the tape, and now I'm left with a really cool pattern on the window.
Project Picture:

Class or Challenge Title: Detention, stash
House: Slytherin
Project Name & Page Link:Cheesy mashed sweet potato cakes andenglish muffin
Brief Description: After making the sweet potato kibbeh I still had a lot of potatoes left, and decided then to make cheesy mashed sweet cakes. My cakes was half kibbeh leftovers and half plain mashed sweet potatoes, and I added cheeses and panko and fried them.
I've also wanted to try making English muffins, because I've never tried them, neither have I seen them, and I thought it would go well with the cakes, which for me it did. I added a picture of the English breakfast muffin with sweet potato cake, which sadly is buried under the egg and beans (I didn't realise this until I looked at the picture).
All ingredients are from my stash.
Project Picture:

Class or Challenge Title: Hagrid's 12 Christmas Angel Challenge
House: Slytherin
Project Name & Page Link: Sweet potato kibbeh
Brief Description:: My mom has always been there for me, and I doubt it will change anytime soon. She's coming around to help me organise stuff in my house some more, so I can get it back into shape, and doesn't want anything in return, ok, she won't say no to dinner and dessert. I found a recipe for some Sweet potato kibbeh, because I needed to use the sweet potatoes I had, and decided to try making it. I love this dish, it's so going into my recipe box. I didn't have bulgur so I used cucscus, other than that it's pretty similar to the original recipe. So I prepared this for her visit that will go as a side with some other food I haven't decided on yet.
Project Picture:

Class or Challenge Title: Hagrid's 12 Christmas Star Challenge
House: Slytherin
Project Name & Page Link: Miniature potion books
Brief Description: I love working with miniatures, it's one of my better skills I think, and while these are a little too large for my dollhouse bookshelf I had fun binding these cute books together.
Project Picture:

Class or Challenge Title: Hagrid's 12 Christmas ribbon Challenge
House: Slytherin
Project Name & Page Link: Homemade coffee liqeur
Brief Description: I came across some recipes that use coffee liqueur, but looking at the price of coffee liqueur was enough to put me off the thought of making those recipes. Then I wondered if it's possible to make your own, and it is. I used this recipe as the base (https://www.thespruceeats.com/homemade-coffee-liqueur-766126), but having seen other recipes I decided to tweak it slightly. I swapped half the sugar with brown sugar, and about half of the rum was vodka (because I didn't have enough rum as I've used most of the bottle to make vanilla essence). Because I don't drink alcohol I decided to add the alcohol to the mixture as soon as the sugar had melted, hoping it would reduce the amount of alcohol. I loved the end result, it's quite like a syrup, but sadly there is little coffee taste, so I would have added more had I known that.
The first recipe I saw with coffee liqueur was a Marengue and ice cream cake with chocolate sauce, the recipe I found is in Norwegian, luckily for me they added the source and so I found out that it's a Nigella recipe, who actually have it from someone else! While this project is only for the sauce it will tie the ice cake and sauce together.
Project Picture:

Class or Challenge Title: Hagrid's 12 Christmas Tinsel Challenge
House: Slytherin
Project Name & Page Link: Gold striped earrings
Brief Description: I was having some fun with paint, and decided to make a few earrings as well, but only the paper was a little boring so I added some fake gold stripes which I think works well with the colours, and when the light hits them right they glisten really pretty.
Project Picture:

Class or Challenge Title: Hagrid's 12 Christmas Trees Baubles Challenge
House: Slytherin
Project Name & Page Link: "Overhaul of drawer chest
Brief Description: While I was married most of the furniture were dark, I was never a fan of that, being single shouldn't stop me from switching them out, but I'm also out of a job so that won't happen anytime soon. HOWEVER, that doesn't mean I can't spend a little money and upgrade it, so I found some copper contact paper that matches the stripes in my living room and I think the drawers look great, it lightens the corner far more. Copper is a favourite colour for me, and the striped fronts are so me, it fits the room well as one of the walls in the room have huge painted copper stripes on it.
Project Picture: