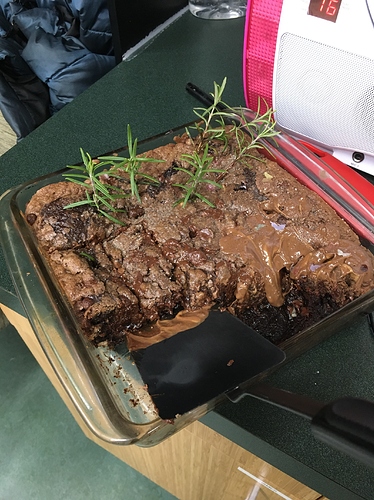 My child doesn't care for cake, so the last several years she's asked for brownie cake for her birthday. This year, our themes were fairies, woodland animals, and Wild Kratts, so we went with a dirt cake, and having been both an archaeologist and a gardener, I probably know too much about actual dirt for this project…
We began with a layer of rocky sub-soil (off-brand cocoa puffs) in the bottom of the pan, and covered that with half a package of triple chocolate brownie mix. Then we added some cashews and chocolate covered ginger to the second half of the brownie mix, and then discovered that we'd put in too many of the puffs at the bottom and we couldn't get our "soil" layers to spread across the whole pan. So I poured in most of the first brownie mix to make a subsoil with varied inclusions, and added a blondie mix to the dregs in the mixing bowl.
At which point I discovered that the extra ingredients for the blondie mix were Not The Same as the ones for the first brownie mix, but the package was open, so there was no turning back… even when I discovered that the bake time for the bottom layer was twice the bake time for the top. And since the top layer was butter-based instead of egg & milk, there was no way to test the bottom layer for doneness…
So our cake had very tasty edges with a high groundwater section in the middle, and what began as a pile of peanutbutter cup rocks in one corner got melted into a mudflow, so there are butterfly sprinkes (left over from last year's butterfly cake) puddling in that bit, and then rosemary sprigs for vegetation on the other corner. (My child suggested green frosting for a lawn, but I do not want to encourage monoculture lawns even in cake form.)
And then most of the partygoers decided to partake of the "mud" bar (2 flavors of pudding with gummy worm & various rock-resembling candy topping options) anyway.
Fortunately brownies (baked or underbaked) freeze well!