Prompt: Travel
Team: Bits and Bobs
Project Name: From appliqued quilt to tote bag
Project Link:From appliqued quilt to tote bag
Brief Description: An old "hand-me-down" quilt transformed into a tote bag.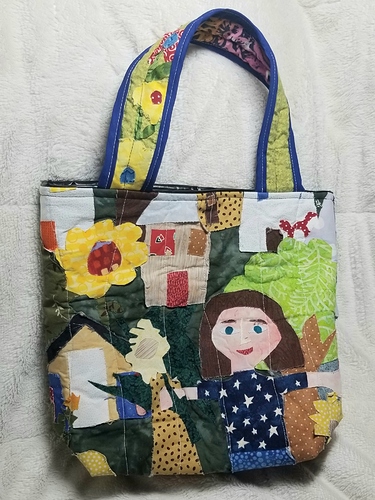 Prompt: January Battle - Status Quo -
Team: Running with Scissors
Project Name: It's Unikitty!
Brief Description: I made this for my niece. I found a graph and just worked it over sc. I've been crocheting so long it was nice and easy for me to whip up over a few days.
Project Picture: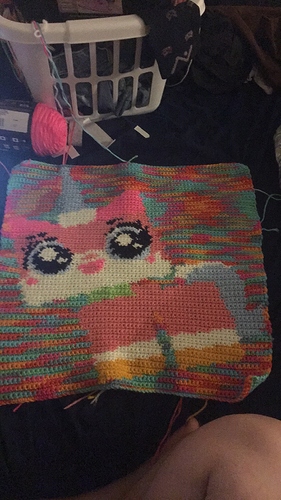 How sweet! I'm sure your niece will love it!
Prompt: January travel
Team: RWS
Project Name: reversible stash placemats
Project Link: Stash placemats
Brief Description: made for thanate in the Little Good Things swap, for use in the home. All materials (upholstery samples and cotton) are from stash.
Project Photos: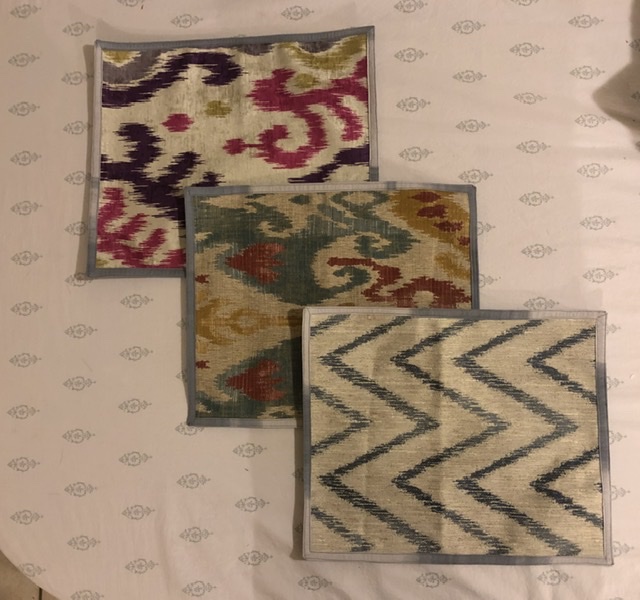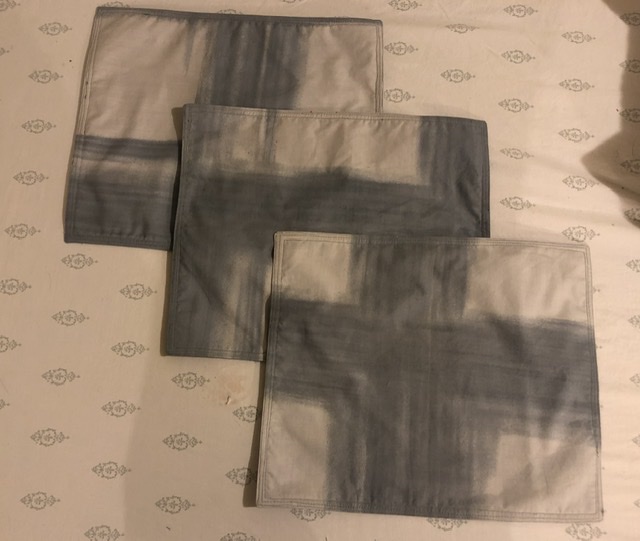 Prompt: January Battle- Resolutions
Team- Knotty by Nature
Project Name- Don't be a prick towel
Link- 3 Embroidered Dish Towels
Description- My resolutions/Goals for this year are finish more, give more to family, & be nicer. I embroidered this towel for my youngest son. So I finished something, gave it to family, and it should remind us to be nicer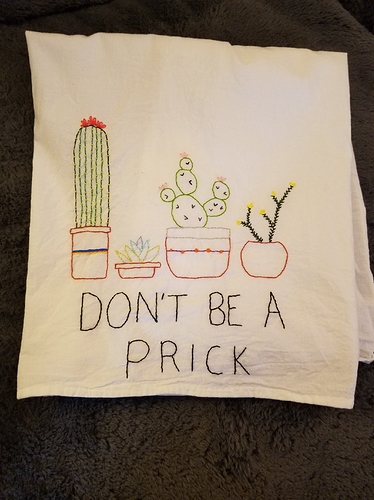 Prompt- January- Travel/Home
Team- Knotty by Nature
Project Name- Pizza Hunter
Link-3 Embroidered Dish Towels
Description- This towel was for my eldest son. My husband & I have been traveling between El Paso, TX & WI a lot recently, both by flying & driving. My hands need something to do. With embroidering while traveling my stitches are not as nice as I'd like, but I'm learning to embrace that.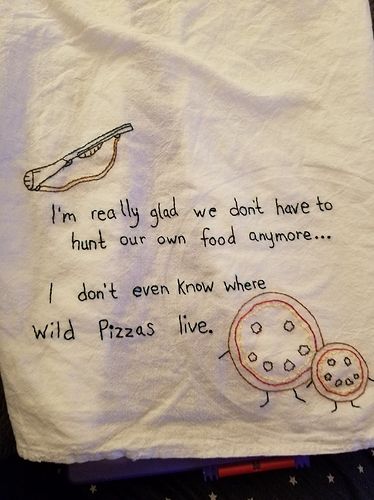 Prompt- January- De-stress
Team- Knotty by Nature
Project Name- Throw an apple towel
Link-3 Embroidered Dish Towels
Description- I made this towel for my middle son.Embroidery has become my de-sresser. I love the perfect imperfections.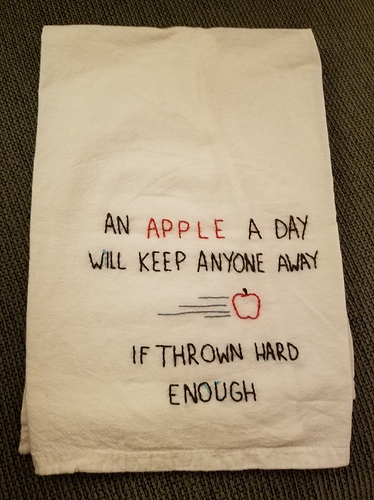 L2L – What a creative idea for all that fabric rope. I like how the wreath turned out and the fabric leaves on it. Your alcohol ink bear card is fantastic. It may motivate me into pulling my Silhouette back out and giving it an actual try. I think the tote is a fantastic idea for the applique quilt. Did you ever make the pillows?
Geekgirl – Awe, we are on the same team! Yay! Love your dishcloths. I bought some (not these) from you in the Garage Sale on eBay and love them . I don't know what your talking about, but I think these are pretty! Ooh, those sweet potatoes look super yummy!
Storerboughtcreations – That was a great alter to make the sloth. Very, very cute. Love how his little body curls around the heart.
Bunny1Kenobi – Eeps and a happy dance to see you here! And we are on the same team! Yip yip!!! I was curious which team you would choose. Love your busy bags. I think they are an awesome way of getting a kid off a tablet for a little bit. The placemats are really neatly done. I am in awe of your corners. Bias tape is the death of me. Your corners are exact. I am in envy of your skills!
QueenHobo – Another RWS member! Unikitty! I love her! I can't believe you just whipped that up. It would take me a century. It looks amazing. I'm sure she squealed with delight!
Ezrib – Awesome dish towels. Your letter is amazing and very readable. The pizza one is my favorite. LOL!
Prompt: January battle- resolutions
Team: RWS
Project Name: Black kitty
Project Link: Black kitty softie
Brief Description: made for the Little Good Things swap. I included some magnets that she could glue onto it in case that would be an option she's interested in. I intend to do more crafting (and swapping) this year as one of my resolutions. Because it makes me happy, and MORE happy is MORE BETTER. (No, my resolutions have nothing to do with proper grammar this year.)
Project Photo(s):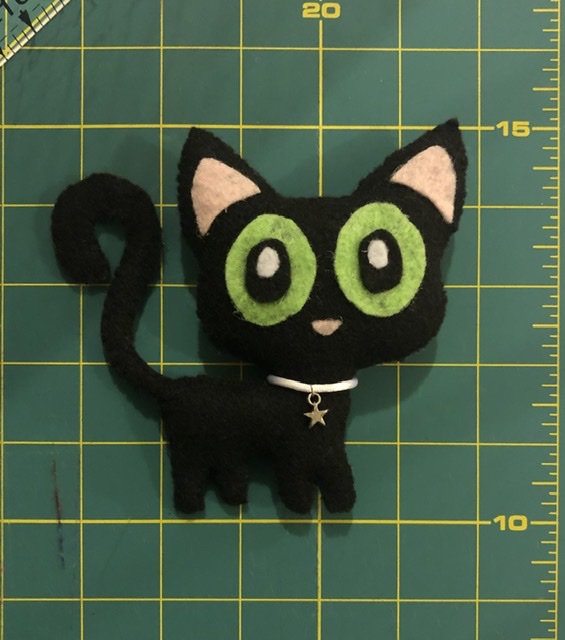 Thank you. No, I haven't made the pillows yet. I just the quilt stuff last week. I picked up fabric for the back of the pillows today and ordered pillow forms from Walmart (4) 16 in pillows for $13 total!
I love him and the charm around his neck is precious. Those very alert eyes!
Thank you

Helpful Tip
One of the great new features for this new site is the ability to easily tag members.
If you reply to a specific comment or quote someone, they should get a notification that you responded.
If you're typing a post that is acknowledging a bunch of people and projects, if you use the @ symbol before their user name (@gozer or @QueenHobo for example), they will also get the notification.
This is a great way to make sure people see responses and questions. I am loving this site more and more as I get used to the new features

LOL! I know, I know, I should be tagging people when I comment but I am stuck in my old ways and I hate the thought of people going to their comment and skipping all the other responses. I will start tagging though. I know it makes it easier.
Prompt: Big Time #1!
Team: RwS



Project Name: Goldfinch Clutch
Project Link: Goldfinch Clutch BotMC
Brief Description: The first pattern from the BotMC and I am keeping it for myself! I am going to use this bag for when I go to nicer events, like plays with my mom. I am excited to be sewing again! Yay 2020!! And if you click the link, you get a cute bonus pic of my kitty Yeti Pegleg.


Project Photo(s):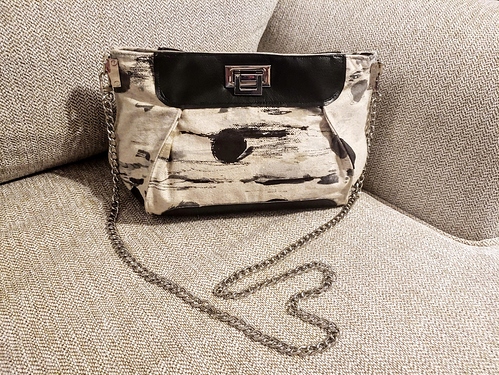 Hi!!! Im Melody and I am joining team Knotty by Nature

curtsies and hugs all around
Prompt: January prompt about goals
Team: Knotty by Nature
Project Name: Crochet Cast Iron Skillet handles
Project Link: (Paste the link to your community post for the bonus points)
Brief Description: I have heard that cast iron is a way healthier way to cook so I transitioned. But dang! Those handles HOT…so I followed the tradition and crocheted two handle covers and a tiny pot holder to help when its too heavy to lift with just the handle. They are cotton. They will be greasy little messes very soon so here are some pictures to remember them when they were clean LOL
Project Photo(s):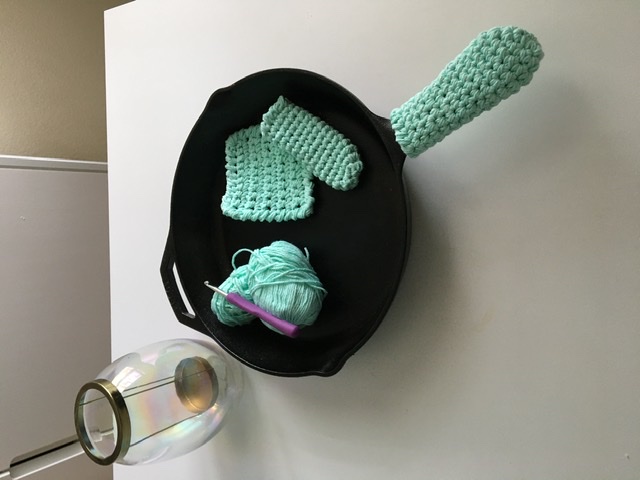 @gozer I love the bag. And I also love that you used


emojis.
Team Running with Scissors:



Team Knotty by Nature:


Team Paletteable Art:



Team Bits and Bobs:

If anyone wants to use emojis to let me know what team you're on, I'm okay with that

@smileyyogini welcome to the games, and welcome to team Knotty by Nature! Your pan holders are great, and I hope they work well

@Bunny1kenobi – you know I love that little kitty cat. Black cats are awesome and I adore it's huge eyes and cute charm on the collar. To heck with Grammar! I am just happy to see you here! Here's to a year of inspiring and encouraging each other, or should I say, another year.

@smileyyogini – Hooray! I am so glad you joined the Games! Awe. This is so awesome

I love that your first prompt was for a useful item. I love the color you chose too.
What a perfect fussy cut! The fabric is a lovely compliment to the clasp.
A great idea to use the fabric rope! The scrappy look is very cute. And your bear card turned out wonderfully.
Hooray for putting things to use, and cutting waste! I happen to think they are pretty, but don't let that stop you!

This one is my favorite of the series, they're all funny!

This kitty is delightful, I can picture them stepping right out of an anime (and in the anime I have literal heart eyes for them).

Also - don't forget to link your main LC post for bonus points! go team

Prompt: Big Time #1
Team:


Project Name: Applesauce 2 ways, Apple Butter, and Apple Cider Vinegar
Project Link: Use All The Bits - Apple Edition!
Brief Description: Determined to get the most of my bushel of apples, I made everything I could!
Project Photo(s):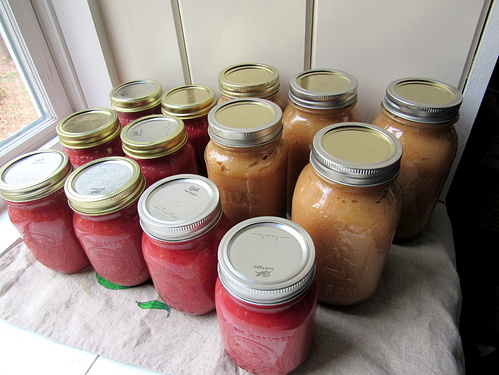 Photo is just of the apple sauces - there are more in the main post.
omg!!! Look at his little collar. And those eyes. He is beautiful. (she?) It!!
This is my first time joining so hopefully I do this right
Prompt: January - Save Money/Eliminate Debt
Team: Palettable Art
Project Name: Rice Heating Pads and Ice Packs
Project Link: Rice heating pads and ice packs
Brief Description: I made two microwaveblr rice neck wraps to replace the old ones we had that were getting funky. The new ones are also a bit longer. I also made two smaller ones to freeze as ice packs. All the fabric was stash and the rice was from the big bag in our pantry (though thinking about rice as stash is a bit odd I guess)
Project Photo(s):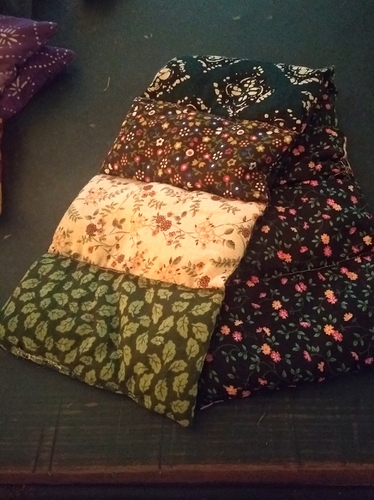 There are photos of the second and the ice packs in the community post as well.