Quarantine project #1. What's everybody's 20 second hand washing song? Mines "toss a coin to your Witcher"

f bomb warning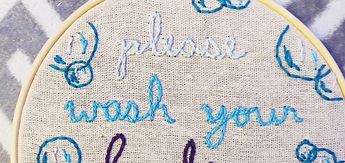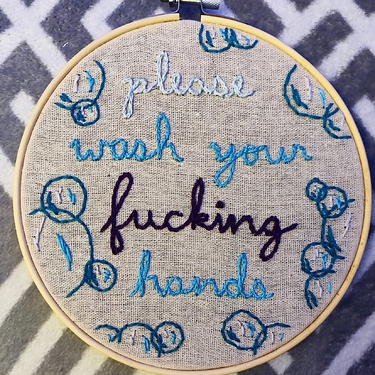 This should be in every bathroom around the world…
love the bubbles…
I sing the Alphabet song…I think that is long enough…
Love the sentiment, LOVE the bubbles even more!
Aahahaha! I love that you sing the Witcher song - my hubby played Witcher all summer and it got embedded in my brain, I might have to switch from happy birthday

Great project! It truly is an evergreen sentiment. Also now the Witcher song is stuck in my head

this is awesome. Love the bubbles. And so funny singing the witcher song
not to derail - but has anyone seen the short little video "if the witcher had a cat"? google it- funny.
BAHAHAHA! TOSS A COIN TO YOUR WITCHER
love the sentiment. love the fontwork. love the stitch selection…BUT THE BUBBLES ARE BOMB!!!
super love this.



Seriously, people need to take this advice…this is great!
(My local newspaper recommended either "The Cat Came Back" or "Sandwiches", both by Fred Penner, which is a nice switch-up from "Happy Birthday".)
The bubbles make this! Awesome!
Never Gonna Give You Up by Rick Astley is a good 20 second increment. I've officially Rick Roll'd myself
Bahahahaaaa! Excellent timing for creating a sentiment we should all take with us into the future. YEY FOR THE BUBBLES!
Awesome! You lettering is excellent.
Perfect for any time but especially now. Love those bubbles!
This is fantastic! Totally now on my own To-Do list.