It's hard to argue with Godzilla!
Awesome.
So many fantastic projects already…it is fun to see everyone's interpretation of the theme!
Thank you, @jemimah and @kittykill!
I admit, it was fun enough, I might be tempted to do more Xstitch.
OMG all the finished projects since I was here last

amazing letters and clouds, Godzilla and the drawing of an architectural design!
I finished my entry, and I'm really pleased with the result even if I know I still need some practice, I haven't embroidered in a few years, and that was my first time XD
The story behind this design is as follows (it's the same info as I added to the post)
I saw Lynx2Lancer project and it gave me a tropical feeling which made me think of Lilo and Stitch, and when I thought about them I thought about the word Ohana, which means family, but it's way more than just blood related family, and family for me (either it's real family or friends) is home, I will always feel at home when I know I have those I love close to me.
So, I give you a lose interpretation of Home Sweet Home.
The whole design is made my be, I wanted to have some lose sketchy flowers around the words, but in the end I just made some leaves from Lilo's dress, and one hibiscus flower inspired from the scene where Nani releases the flowers she held in her hands.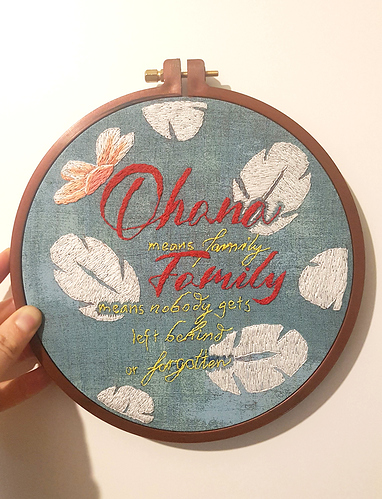 Can't wait to see what next month's theme will be

Oh my gosh! I just realized you embroidered all those flowers. Ok. Even more cool.
That is beautiful!! Oh my!!

Not just beautiful, but meaningful as well…you definitely captured the feeling of home, family…and those colors really work nicely together
@imera your piece is absolutely stunning!

This is so lovely. In the preview I thought the leaves were printed on the fabric. That's how even and perfect the stitches are. Really, it is so beautiful.

Ditto.
Gorgeous stitching, and wonderful sentiment!
It's beautiful! I thought the leaves were printed on the fabric too!
I have made a lot of progress on my Indiana home. It isn't perfect by any means. I literally chopped a whole block out, pinned new fabric underneath, and started over. Anyway, I have one block left and I'm at a loss. What do you think I should do with it?
p.s. The yucky little white bits in the fabric are just because I didn't completely wash out the dissolvable fabric that the outline was drawn on.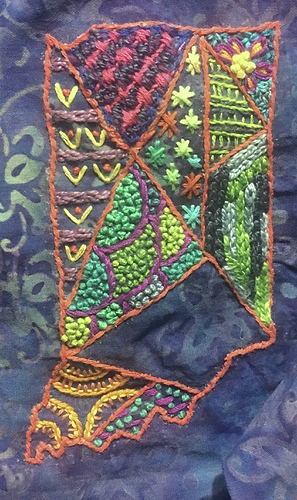 It is really looking good! Not sure what any stitches are called, but once you are done, you should stick a button or a charm where you live in the state…it is your home!
Oh, that is such a marvelous idea! I wish I had thought of that before I did all the stitching. The charm would have to go over one of the V's. I'll have to do some thinking.
Maybe a bead right over the bead? I am impressed with all of your French knots!
This is looking so fab - I love the colours and textures!
I'm sure whatever you choose will look great! Maybe a trellis stitch could work?
That turned out so great! All of the textures!