Congratulations @Lynx2Lancer

Well, I thought and thought about what to stitch for my initials and if I wanted to include my middle initial or not, but settled upon first and last. LJ. Lava Java.
Thanks @GeekyBookworm for drawing my stitch pattern for me!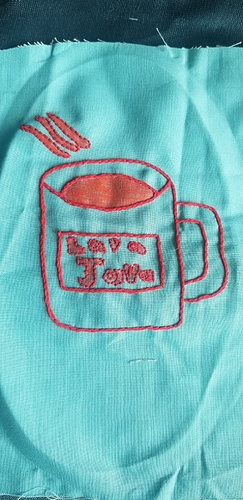 Haha! That is great!

Love it! I'm having a hard time time finding something that starts with V. I may just have to go with L!
C'mon Lindy! You could be: Vivacious! Voracious! Victorious!
A Vulcan! A Volcano! A Vulture!
voluptuous … vowels…vipers…vacuums…You can do it!!
Licking Vowels?
Lurking Vikings?
Lakeside Vases?
Limited Value Or Lasting Value (ooooh, think what you could do with Mickey ears with that!!)
Lucrative Value
Looming Veins
Lusting Vampires…
You've got this!!!
OMG Yes!! This!!! Now I wish those were my initials!! Why didn't I think of that!! Perfection.
OK, friends. You gave Lindyv321 some great ideas. Can you help me out too? My initials are RS. I'm stumped and need your marvelous inspiration.
River specialist.
Rainbow sewer/spotter/skeptic/scorcher/squanderer
Rabid squirrels
Rancid stench
Refill scotch/soda
Reusable straw
Repossessed sudan
Rolling Skunks
Random Socks
Raunchy Snails (ha ha ha)
Repeating Squares/squiggles/stones
Racing Snakes
Roaming Sheep
Refreshing Snacks
Riveting Sunrises/sunsets/skies
Revolting Sneakers