I've just been salvaging some old linen shirts that were worn too thin to patch, and was badly conflicted over the cuffs and collars. I finally saved the collars and threw away the cuffs, but I know I'll wish I hadn't.

I love seeing your small, square patchwork. It gives me a lot of good ideas.
I'm using my scraps to make some blocks from the Farmer's Wife 1930s quilt book. I was going to hand sew because I struggle to stitch perfectly straight, but then I saw she provided paper piecing templates too, so that's where I'm starting. I had never done that before so I started with the easiest block in the book. The finished size will be 6x6.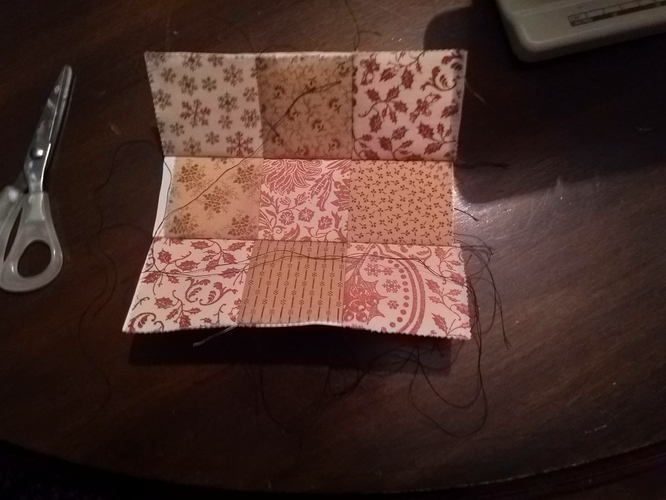 These are so fun! Today, I finished my Sunset Fabric Woven Wreath!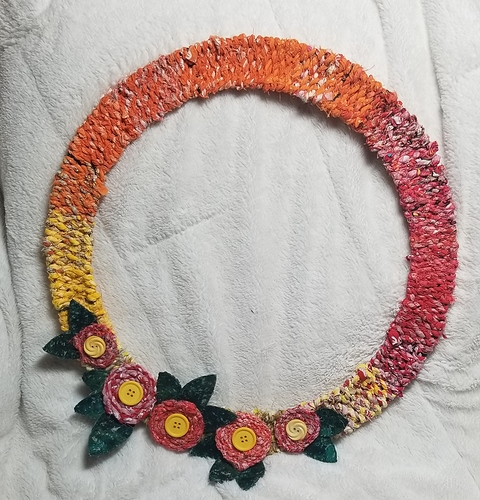 Thank you! I didn't even think to google it.
Click on her link. @Lynx2Lancer did her own tutorial which I think is pretty easy to follow!
@Immaculata Great fabric choice on that block! Do you plan on making future blocks with a similar color palette or is this going to be a scrappy extravaganza (ex-scrap-aganza?)
@Lynx2Lancer - Your wreath is beautiful! I especially like the way you did the button flowers and leaves on this one.
Honestly I was asking myself the same question! Most of my scraps are brighter colours, I have maybe 2 or 3 blocks worth of scraps in this colour palette and I wonder if these blocks maybe should be a separate project.
I've just discovered old craft books are also on gutenberg.org !


Perusing this one, I found a wonderful (IMO) idea for using scraps, just about half way down the document [73] called The Economy Quilt
Needlework Economies (1920's?)
@Eddie - Let's hear it for Project Gutenberg! I'm going to loose hours to looking up old needlework and women's magazines in there. I adore the little spot illustrations you can find in them! Also, it's interesting how many of the articles in the magazine you linked above are about darning. Not that it's an unusual skill or topic, just that instructions are included in a magazine rather than something you were assumed to have learned from a family member as I would have assumed.
I was looking for a way to use up some 6x6 fabric scraps leftover from a quilt and expand my pouch horizons, so I gave the Bauble Pod pattern hack a try. I'm not terribly pleased with the results as it seems that the contents of the pouch are likely to fall out if you open the zipper all the way. I'll have to try the regular mini popcorn pouch a try before I truly pass judgement though.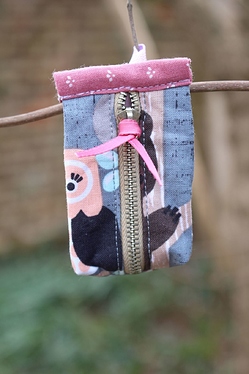 Having just followed the link to see the patterns, yeah. I think, just from what I can see, that the original popcorn pouch looks like it might be better.
That is a cute pouch you made there, all the same

Great find!! Thanks for posting!!
Nice pattern for making an apron (more like a smock) among many other interesting things!
The embroidery books on Project Gutenberg are pretty cool too. I just checked them out. The on on embroidered book binding is particularly fascinating. I had no idea that was even a thing.
I feel like this might work well for a change purse where you want to be able to drop all the coins in your hand to figure our what you've got?
Do you have any tips on shortening/working with metal zippers for this sort of thing? I have a whole bunch that my mother decided she was never going to use that I've been kind of avoiding because I can't sew over them.
I'm also working from an ancient and venerable zipper stash and man oh man have metal zippers been a learning curve! I've broken more sewing machine needles in the last month than in my previous years of sewing combined. Mostly what I've started doing is when I get to the actual zipper part I take my foot off the pedal and turn the wheel by hand so I can wiggle the pouch and try to get the needle to go between the teeth. It's tedious and you can get some funny looking lines, but it sure beats the alternative. For trimming the zippers I've also been using my big scissors for the main portion of the bag (coming in from both sides) and then using a smaller, pointier pair to work around the metal bits in the middle.
Good to know, thanks. I think one of the older-than-I-am instructional inserts said something about making a new zipper stop by hand, so I was thinking about maybe just machine sewing up to the metal bit and then picking back up on the other side & hand-finishing over the actual zipper. I… might not have gotten to thinking through the issues with cutting things yet.

I also have a stash of metal zippers that I have been planning projects around. I like the look, but yeah, sewing over the teeth is not good for the machine!
I find using the bottom of the zipper and cutting off the top excess allows me to sort of avoid sewing over the bigger part and just wriggling through the top halves…it usually means more of an open placket for the zipper than most patterns call for.
Like this: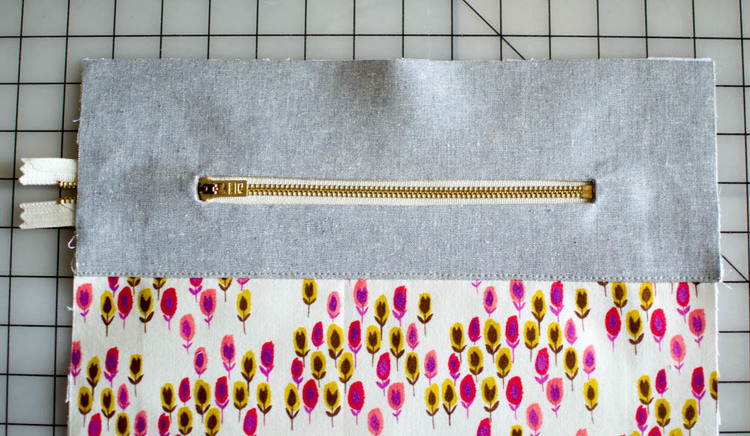 Yep, stitch each side then over sew the end a few times. Any kind of thread works, just make sure the zipper can't run over it and snag.