I missed last week and will do it still, just after this one! Or maybe at the same time. Either way, these are really fun!
@Magpie


(Bubbles was Tisha's code name when she secretly sent a package to EVERYONE in a past swap!)
I might only be able to get 4 done this round. My overall theme is "fish!" I can think of how 4 will fit easily, but 2 are escaping me right now.
Here's the masterboard I made knowing that I needed something "watery" for my fish theme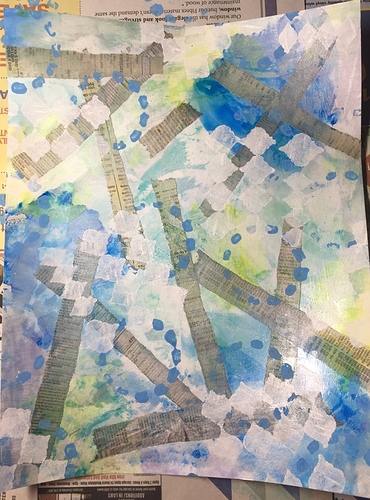 I went for silly and fast fun this weekend. No watercolours this time. I did them as a set so I'm posting them all!
1/6 myths (this one wasn't my original idea, I saw a cartoon that made me laugh)
2/6 bubbles
3/6 positive vibes
4/6 monochromatic
5/6 under the sea
6/6 houses (hope a dog house counts!)
(I've been playing Assassin's Creed Odyssey lately…)
@jemimah speedy! love your matching ATCs. is that origami paper in some of the ATCs?
Yes! It's been in my stash for years.
That was also my name when I was a Beaver leader! But first it was the name of a very scary clown I got from the old place. He is terrifying and I love him
Looking forward to see all your cards, y'all!
Huzzah for stash busting!

1/6 Myths
Whoo hoo…we can upload pics


It was hard to get a decent picture (lightning never strikes the same place twice).
Beautiful masterboard @craftADDchick! Looking forward to seeing your fishy creations



Gorgeous cards @loves2experiment! Love the moody colours and the lightning looks cool!
Great cards, @jemimah and @loves2experiment. I especially love the humor and the lightning.
I had decided on an "Under the Sea" theme because as soon as I saw that prompt I went down a Little Mermaid road. But I can already feel the drive to do all six slipping away, so these may be the only ones I get to this weekend.
1/6, Myth ("The seaweed is always greener in somebody else's lake.")

2/6, Positive Vibes (officially, but also Bubbles)

@megwell how clever! Both ATCs cover multiple themes!
4/6 Monochromatic
This took longer to dry than figured…apparently too many layers of tinted glaze on a damp day is not good planning

Totally stuck on theme #5…maybe a nap will help
Thanks @Bunny1kenobi! I hadn't thought of that

Sebastian has been singing in my head too since the themes were announced! I have a mixed-media under the sea card planned and started, but I have serious doubts it will get done this weekend. Nothing was accomplished here today in terms of art.