Question: will the challenge entries be moved to other boards after the contest ends? For instance, if someone made miniature knitting and posted it in the Art category, will it be moved to the Fiber/Textile area?
No the intention is to highlight the board that the challenge is hosted on. There were no plans to relocate entries afterwards. In this case since they should all be posted under miniatures, they will be in an appropriate board even after the challenge ends.
I'm loving all the entries, everyone
Y'all are doing such an amazing job with your miniaturizing rayguns

I see, so the act of miniaturization turns every craft into art! I like that, thanks!
I made my entry today - what a fun challenge! A birdie painting a birdie painting! - ART 2020 Q1 Challenge Entry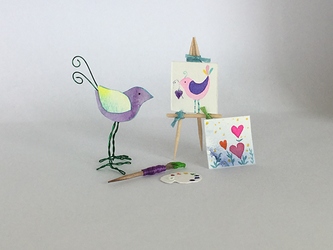 This is the cutest thing ever!
I wasnt going to, but here's mine

https://forum.lettucecraft.com/t/steampunk-hearts-art-2020-q1-challenge-entry/3178?u=gmpnq
So I don't really understand… I need to make art in a miniature shape or can I like do something with polymer clay and make something small? Because, that wouldn't be a art, it would just be a tiny item I made?
Tiny item is art!
Either way, whatever floats your boat.
Fine art, sculpture, stitchery, weaving - whatever you do, do it small


I was confused, too. Especially about this part:
I finally decided to just go for it, and made a mini version of something I consider one of my favorite or signature crafts. I'm still not 100% sure it fits within the specifications, but I sure had fun doing it!

It looks like a fit to me! And very wonderfully done! You rock

Everyone who has entered really rocks!!
Almost forgot to link my entry!!
No worries! I already got you

I've finally got mine posted! Apologies on the delay. I updated iOS, and now Photoshop won't work anymore, so it's been hard getting pics just right without editing software.