When I visit my mom for Christmas, we have a tradition of playing Michigan Rummy after Christmas dinner (after Easter dinner, too, if I happen to be there). My family has played it together (we used to play it at my grandma's all the time) for as long as I can remember. My aunt and uncle made a table-sized board and it's a family heirloom, now. When we played when we were kids, we used to play with pennies, but now we play with dimes. My mom also often hauls out the board when she has company, and people know to bring their dimes! A few years ago, I made my mom and my aunt pyramid bags for them to keep their money in (much nicer than a zip top baggie). Then, last year, I made one for a cousin (and one for myself), but I realized this year how huge those two were compared to the originals. So,when I knew we were playing again after Christmas dinner, I decided to make small ones for my mom's friend and cousin. I made these on Christmas morning- they were pretty quick to make, and I used supplies from my mom's stash.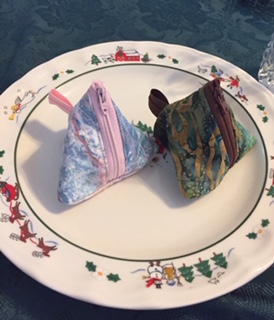 They were so cute and tiny, but the perfect size for holding a bunch of dimes. I used pieces of the zippers (I had to cut them down to size) to make little grab tags on each bag.
Then, I decided that I needed a smaller one, too, so I made a third one after Christmas: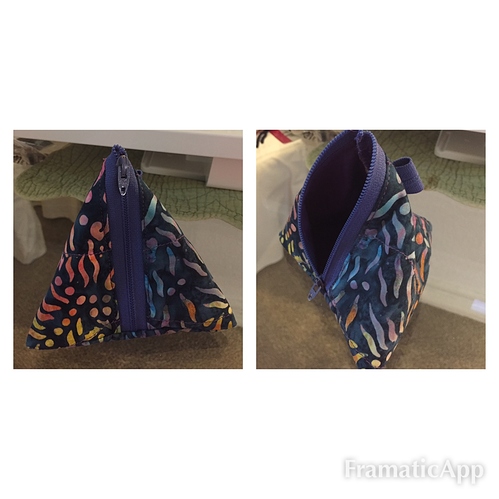 These worked up quickly because they don't have hidden seams- they just have a zig-zag finish. The original ones I made a few years back had the seams hidden inside the lining, but I didn't find that tutorial again until I was finished with these three. But, for their intended purpose, it doesn't matter.