Whenever my mother made barbecued pork or sausage, she would make bbq sauerkraut with the meat in the same pan. She had a simple recipe of ketchup, brown sugar, water, and a little vinegar for her sauce. The kraut was well drained and rinsed before adding to the pan. She simmered it all and the aroma filled the house, making our mouths water in anticipation. There were never any leftovers.
Recipe: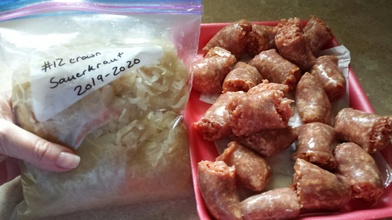 1 package of mild rope sausage, cut into 2 inch lengths (approx. 2 pounds)
1 package of homemade sauerkraut (approx. 2 pounds)
Sauce: 1/4 cup brown sugar
3/4 cup ketchup
water to make desired consistency
1-2 tsp vinegar
Mix sauce ingredients together until sugar is dissolved. Taste and alter amounts to your preference.
Brown the sausage chunks. While cooking, rinse the kraut well in cold water and drain.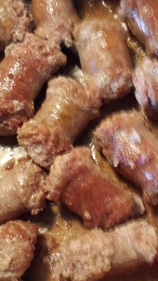 Add the kraut to the sausage. Pour the sauce mixture into the pan.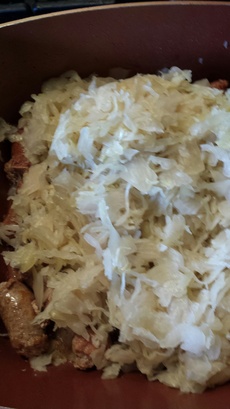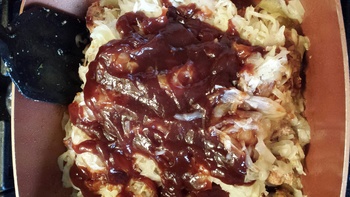 Stir well. Cover the pan, turn heat to low, and simmer for 20-30 minutes. Stirr occasionally.
When finished, the bbq sauerkraut and sausage will look like this: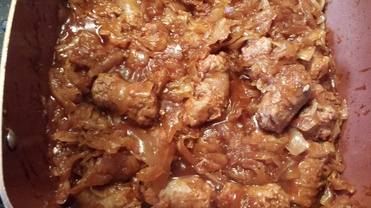 It tastes delicious!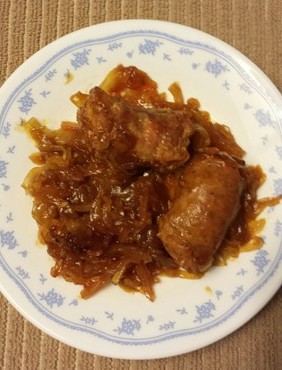 Options: Add sliced onions, green pepper, or shredded purple cabbage to the meat and kraut. Cook all together. @KaeGalla