Good morning! For Valentine's day I made my students (I teach adults in the training department of my company) some red velvet cupcakes with frosting made with black cocoa. Black cocoa is super dark and rich, and has an almost smoky quality. A lot of bakers use it for black frosting because it only takes a tiny bit of food coloring (if any) to make a pure black.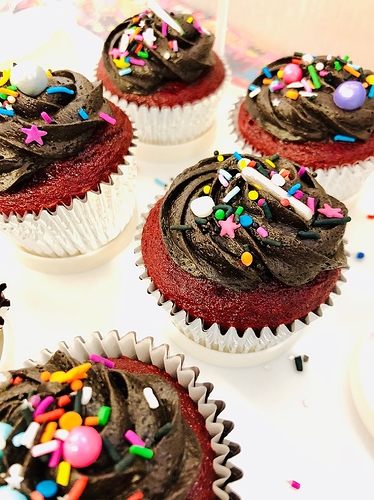 The cupcakes were from a mix (and were meh, but I was in a hurry. The sprinkles are Sweetapolita and are the "Glam rock" ones.
Sprinkles link
Here's the black cocoa I used
Black cocoa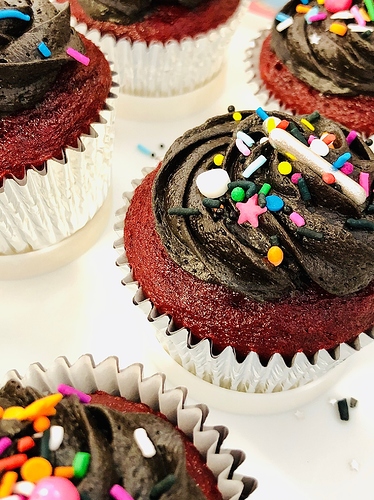 Frosting:
1 cup salted butter, softened
3/4 cup black cocoa
4 cups powdered sugar (I used organic, because I dislike the gritty taste of regular powdered sugar in frostings from the cornstarch. Organic will make it taste a bit different as it typically uses tapioca flour. If not in the us, your powdered sugar might not contain cornstarch anyway.)
2-3 tsps vanilla
Milk or cream to thin-I used quite a bit-more than a quarter cup.
Cream butter, cocoa, and sugar in mixer. Will be very dry. Add vanilla and milk/cream. Add additional milk/cream until desired consistency. Keep refrigerated-but tastes best at room temp.