I had 2 partners for the Little Good Things with somewhat similar items listed in their questionnaires so I thought I'd use more of my time carving a special stamp to make card sets for both of them. I started out with plenty of time but ended up spending most of it looking for my lost supplies. First it took ages to find the stamp carving blocks, like days of pulling out baskets and bins, totes, tubs, drawers, emptying closest. There is no floor anymore, everything is everywhere and has been riffled through. I did finally locate those but the carving tool was not with them, argh! I didn't have enough time to look through everything again so I tried to do it with wood carving tools instead. They are the same, right? They are not the same. It was a mess. Now I had no time left for this project so I had to do something entirely different. But I couldn't let the idea go and when I found that carving tool in with a bunch of pens on a day I had some time, I went for it.
These are my testers, I guess I didn't get any photos of the card sets themselves.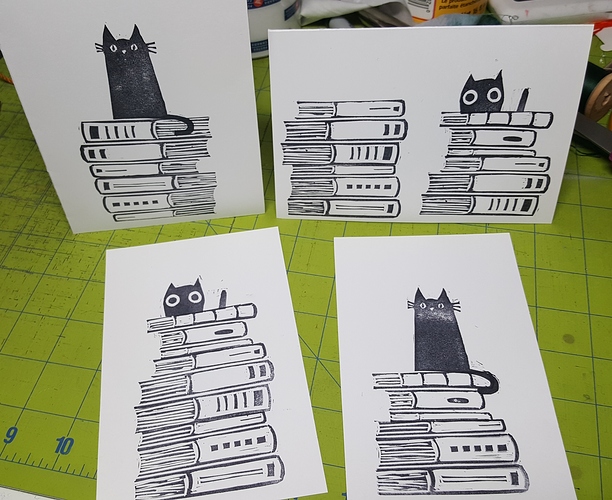 The idea for a book stack using more than one stamp is floating around the internet. You can pile them up in different orders so they look like more books than they are.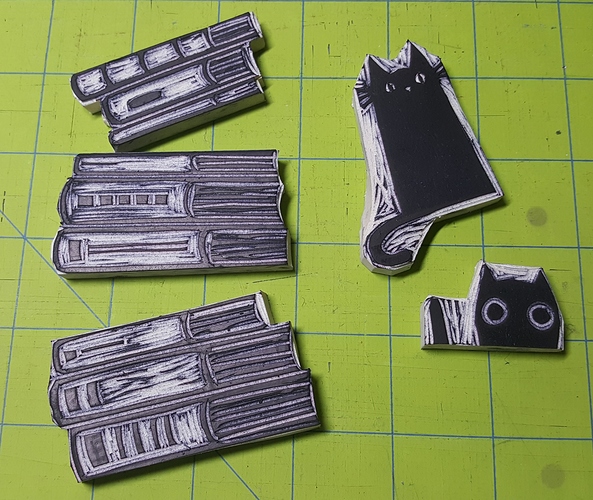 The cats, well. They make things so much more fun. Especially that one with the giant eyes, you can just tell something wild is about to happen with that hyper kitty!