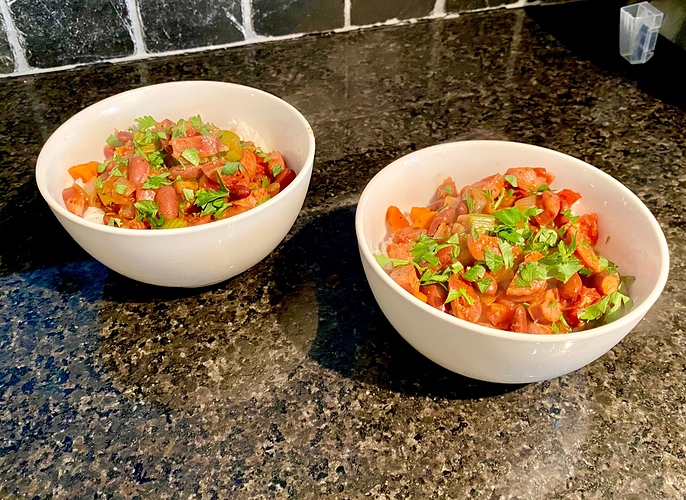 My husband loves cajun food of any variety, so I try to keep some andouille sausages in the back of the fridge or the freezer. If you like your food extra spicy, feel free to top with a little extra hot sauce.

Cajun Skillet Dinner


Serves 4
Ingredients:
1 12 oz package fully cooked andouille (I used Aidell's), sliced into half moons
1 medium yellow onion, diced
1 large carrot, peeled & diced
2 stalks celery, diced
2-3 cloves garlic, minced
1 can red beans, drained and rinsed
1 can of diced tomatoes
2 tsp Cajun seasoning (Recipe to make your own.)
Olive oil
Salt & pepper
Fresh parsley for garnish (or use the celery leaves!)
White rice for serving
Directions:
Start a pot of rice, or set your rice cooker to have the rice ready for dinner time.
While the rice cooks, drizzle a little olive oil or a spritz of cooking spray in a large skillet, over medium heat. Cook the sliced up sausages for a few minutes, so they take on a little color, and their flavor infuses the oil in the pan. Once they are lightly browned, remove them from the skillet with a slotted spoon, leaving the oil in the pan.
Add the onion, celery, & carrots to the pan, and cook over medium heat for about 5 minutes. You want them softened but not mushy. Add the garlic, and cook about 30 seconds, stirring well so it doesn't burn. Add the red beans and tomatoes.
Sprinkle in the cajun seasoning, and a few grinds of fresh pepper. Taste, and add salt if needed. (The beans, tomatoes and cajun seasoning all have salt in them, so you might not need any.) Cook about 5 minutes, until the tomatoes and beans are heated through, and the tomato juices have formed a sauce in the pan. Add the sausage back into the pan, and stir to combine.
Serve the sausage and veggies over the rice, and garnish with fresh parsley, or chives from your garden, or some celery leaves.