I created this ornament for the Little Good Things swap for waterbaby.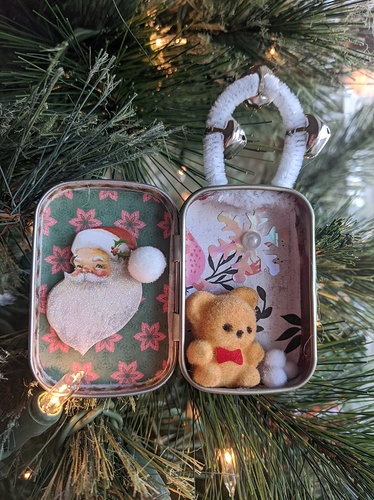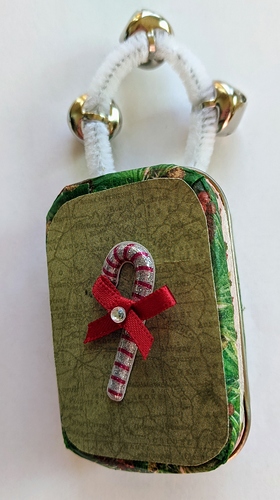 Here are the supplies I used:
-Altoids Smalls tin
-scrapbooking paper
-washi tape
-3D Santa sticker
-3D candy cane sticker
-snowflake confetti (I think it was confetti? Or something similar anyway)
-pearl bling sticker
-tiny white pom poms
-tiny flocked bear
-white pipe cleaner
-silver jingle bells
The majority of the supplies were purchased from Michaels, except for the tin and the flocked bear. Both of those I purchased online. I do not recommend buying the Altoids Smalls in bulk, then taking out the mints because your whole house will smell like Wintergreen. If you like that smell, great, but it is very pungent. Since I don't personally like Altoids mints, I gave those away and thoroughly washed the tins. The bear was purchased from… oh, it's been a long while… I'm sure if you google "tiny flocked bear" you'll find something. It was part of a pack where the bears were attached to long pipe cleaners (not sure why) so I cut off the pipe cleaner portion and used a bunch of E6000 to glue it down. Or maybe it was Loctite Gel Control Superglue? Sorry, I made this back in December and the details are fuzzy.
I think next time I would measure out the paper and get precise rounded corners instead of eyeballing it. I would have used my corner shaper cutter, but the angle was too severe to work on the tin. Ugh, now that I think about it, I could have used the tin itself to trace around the edges. Sad trombone.