Glad to see this is up again!
Hello everyone!! It's good to be home.
Iron Chef edit The January secret ingredient for Iron Chef Hogwarts will be up soon! In the meantime, the deadline for the current December ingredient, Bay Leaf, will be extended to January 31 to allow everyone to get acclimated to our new kitchens.



Headmistress Jennie casts the House Points Charm!

So excited for our new home! Something fresh with something familiar all at the same time! Can't wait to get some extra crafting in before the end of the month. Welcome everyone!
Challenge: Iron Chef - Bay Leaf
House: Gryffindor!
Project Name & Page Link: Slow Cooker Hoppin' John
Brief Description: I had a rather rough end of 2019 personally. With the added emotional loss over our previous home, and the stress of saving data to rebuild our Craftalong, I am happy to put 2019 behind me. Additionally, I thought my husband & I could use some luck to bring forward into 2020, so I went with a Southern tradition, and made Hoppin' John, a dish of black eyed peas, cooked with mire poix, and smoked ham hocks, and served over rice. This picture is it cooking in the crockpot. I didn't get a pic after cooking. We devoured it too quickly!


Project Picture: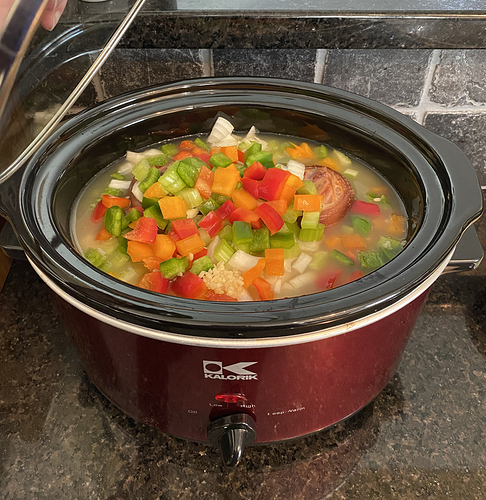 **Class or Challenge Title: Arithmancy
**SPEW:
**House: Hufflepuff
**Project Name & Page Link: Mansions of Madness Miniature
Brief Description: My husband got me the board game Mansions is Madness for Christmas. It came with a ton of miniatures that were just begging for painting. I've been wanting to get into miniature painting for awhile, and I've only done a little before with my BIL. My BIL got me some painting supplies for Christmas and I went and got some more today so I could get going. Here is the first one! It's definitely got ridges, albeit tiny ones! It took me a couple hours to do, and it still needs sealing, but I'm happy with it!
**Project Picture: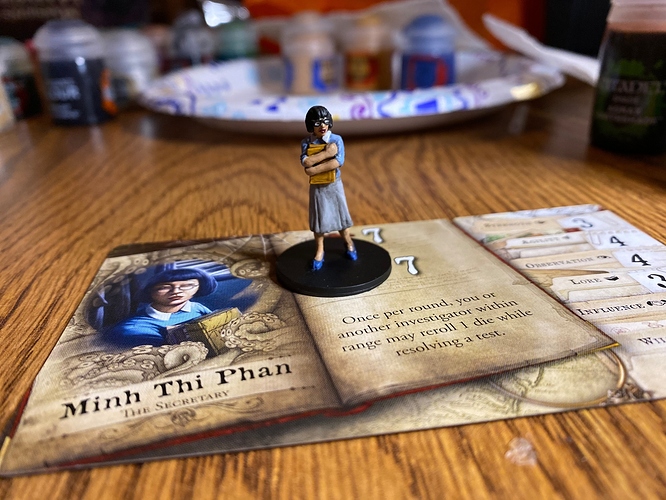 **Class or Challenge Title: Care of Magical Creatures
*SPEW:
**House: Hufflepuff
Project Name & Page Link: Another Mansions of Madness Miniature
**Brief Description: Yup, another one. The game came with over 30 miniatures. The player ones that I've started with are about 2 inches all. My eyes had to take a break from the smallness painting! This gal is an urchin, so I made her look more dirty.


**Project Picture: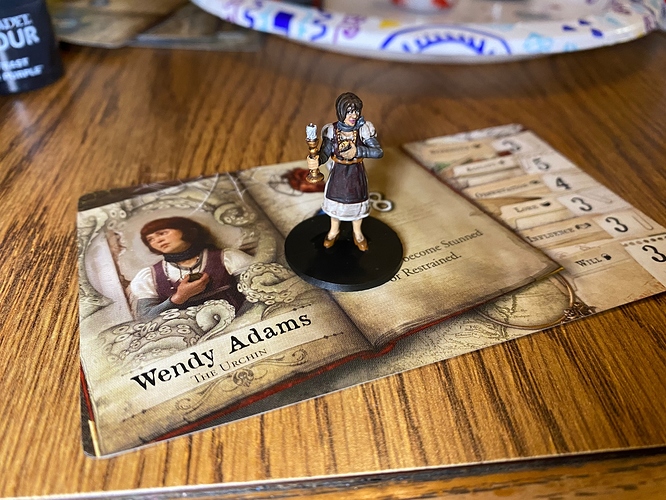 **Class or Challenge Title: DADA
**SPEW:
**House: Hufflepuff
Project Name & Page Link: "Let's do this" Shirts
Brief Description: We surprised the kids with a trip to Disneyland for Christmas. We met up with my cousin and her family. I made us all matching red/white shirts with heat transfer vinyl so we could be all matchy.

I made a total of 7 shirts.
**Project Picture: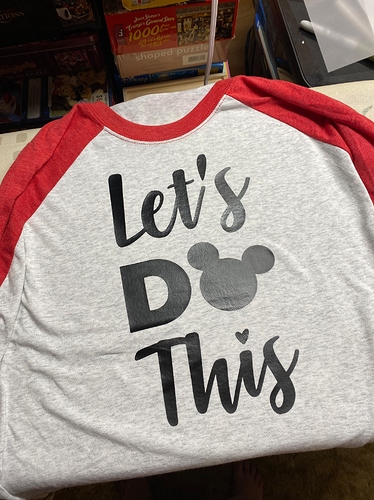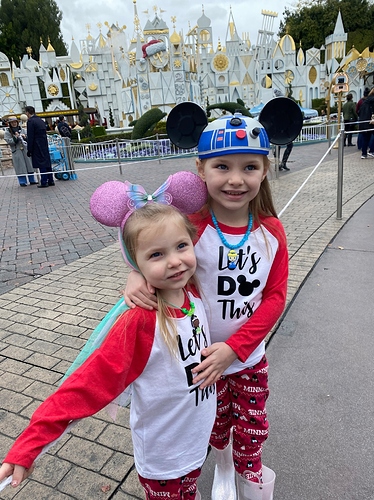 Such adorable miniatures @jillybeans, both the actual miniatures and the miniature humans XD
And I have never heard about Hoppin' John before @MistressJennie, I fear my son would hate the pepper but I'm still tempted to try it, sounds interesting

Class: Apparition
House: Gryffindor!
Project Name & Link: 6 Rings Necklace
Brief Description: I made this necklace for my mom, who turned 60 this year. The 6 copper rings each represent a decade of her life. Mr. Road helped me make the rings.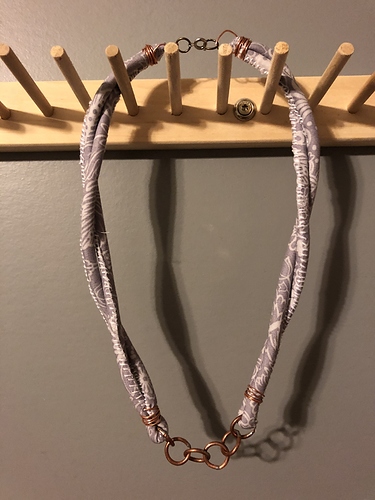 Challenge: 12 Trees - Bells
House: Gryffindor!
Project Name & Link: Woven Ornaments
Brief Description: Made with natural fibers, these little weavings are both pretty to look at and texturally interesting to touch and feel.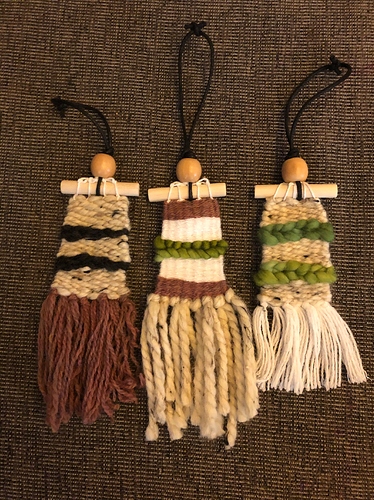 Challenge: 12 Trees - Candle
House: Gryffindor!
Project Name & Link: Jersey Heart Tee
Brief Description: Made for Mr. Road, who loves his home state. A friend was wearing a shirt with this design several years ago, but we were never able to find one like it. So I made him one! There was lots of happy glowing upon receipt.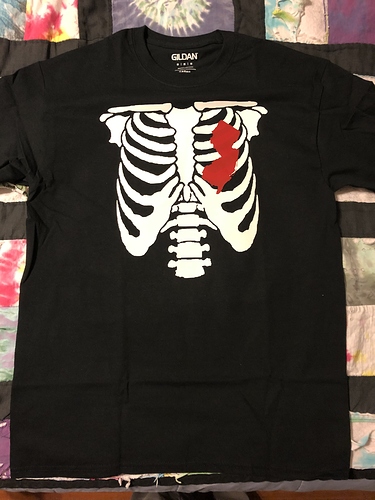 Class or Challenge Title: Divination
SPEW:
House: Hufflepuff
Project Name & Page Link: Fudge!
Brief Description: I wasn't in a huge baking mood this year, so I took the easy route and made fudge instead. I made regular, some with walnut, and mint! And of course, the finishing touches, cutting them into squares with a knife! The three batches were enough for both my families and it was so quick to do! Sure so love me some fudge!
Project Picture: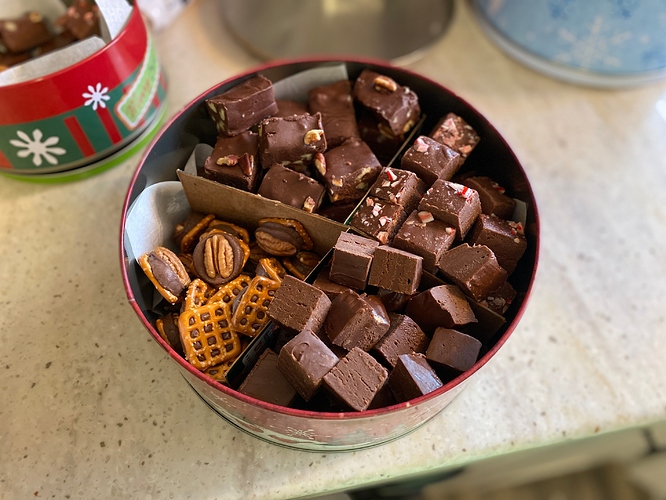 Recipe here:

@Abbeeroad, what a cool idea for the milestone B'day- great thinking!
@jillybeans Now I want me some fudge! lol looks delish!
@MistressJennie, How much do you love a crockpot? I use mine ALLLL the time (except on those days where I'm all "I just CAN'T wash that thing one. more. time. this week!" lol Idk what it is about cleaning the crock but some days I just can't do it. weirdo.)
Yay another Hufflepuff! That fudge looks amazing, @jillybeans. Will you be posting the recipe?
Found it!
I will add it to the post, too!
Class or Challenge Title: Charms
SPEW:
House: Hufflepuff
Project Name & Page Link: Yet another Miniature (The Gravedigger)
Brief Description: I am getting DEEP into this miniature painting. We went and bought MORE paints today. I'm getting quite the collection. These miniatures really do make me slow down and concentrate since they are so small and detailed. This one is my favorite so far. It was fun making him dirty and giving him dirty knees. This game is gonna look so good when I'm done. Only 30 more to go!


Project Picture: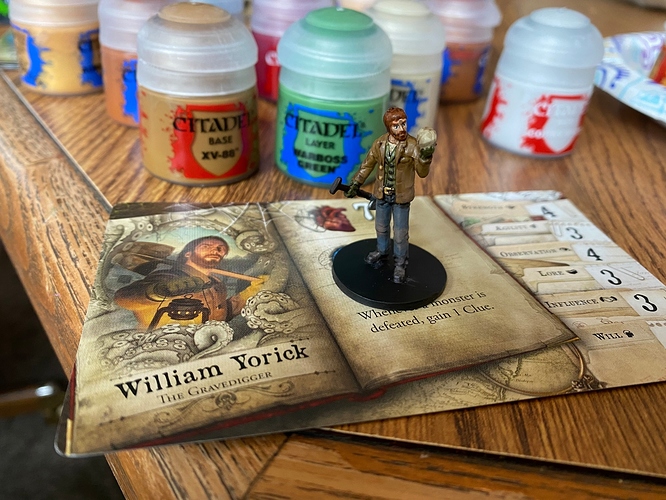 Class or Challenge Title: Astronomy Alchemy
House: Hufflepuff
Project Name: Itty Bitty Baby Hat
Brief Description: Trying to use up the scrap yarn from a pair of socks I ended up with an itty bitty baby hat with a strong resemblance to Jupiter.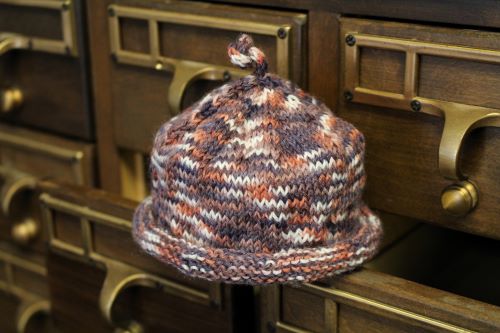 Class or Challenge Title: SoAR (Runes)
House: Ravenclaw
Project Name: 'found poetry' altered book
Brief Description: I wanted to turn this very 'macho' and violent novel (just £1 from poundland) into something very 'feminine' - which was a real challenge on the page in the photo as there's so much violence in it! I have very little money and next to no craft materials being in temp student accommodation, so I didn't want to go too crazy or perfectionist with this. Plus I admit I have no patience and the attention span of a gnat
So I glued floral fabric to the book's cover, and sewed on tabs for the 7 poems it contains (7 being Neptune's number, Neptune ruling poetry). I didn't want the pages to cockle up too much (as they do when painted) plus I wanted the original words to show through but not dominate, so I used strips of glued on tissue paper round the words I'd highlighted in felt tipped pen.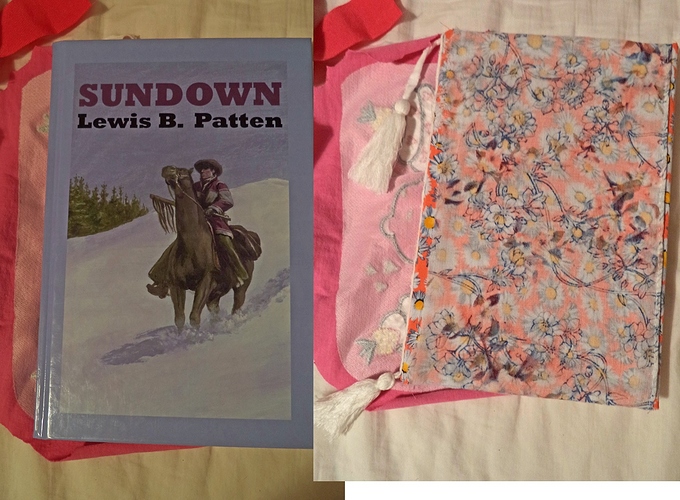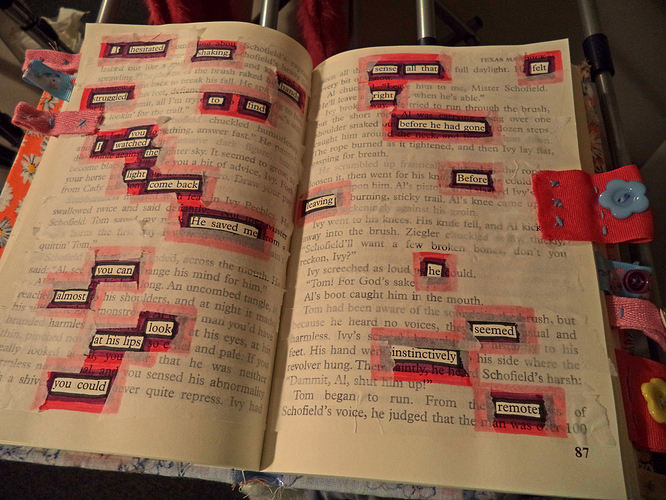 whistles and walks slowly in opposite direction while pointedly not making eye contact