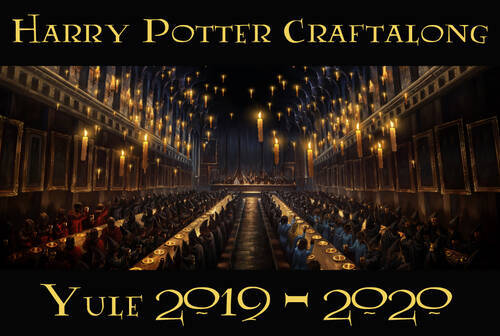 ~Harry Potter Craftalong ~ Yule Term 2019/2020~
~October 1st, 2019 - January 31st, 2020~
Welcome to Hogwarts!
~WHAT IS THE HP CRAFTALONG & HOW TO PARTICIPATE~
The Harry Potter Craftalong (HPC) is a way to share your craft projects, cheer on friends, celebrate your love of Harry Potter, and most of all to be inspired. Each term we have class prompt inspired by Hogwarts courses, Detention prompts to motivate you on mundane tasks, Headmistress challenges inspired by the season, & miscellaneous challenge prompts inspired by the Wizarding World. Complete crafts inspired by these prompts, and you earn House Points. While the prompts themselves are HP themed, your crafts do not have to be. You may craft anything you wish. You may join anytime during a term, and participate as much or as little as you wish. You do not have to 'sign up' to participate. Just post your first project, and you are in. At the end of each term we take an average of each House's Points, and declare a winner!
To participate, simply read through the class & challenge prompts in the post below, find one that inspires you, create a craft to fit the challenge, then post it here. That's all there is to it!
~HOW TO POST~
To submit a project, cut & paste the following header into your post, and fill in the required info. You can add more than one project to your post, but a header must be used for each individual project.
Class or Challenge Title:
SPEW: If your item is for charity, enter that here; if not leave blank or delete this line.
House:
Project Name & Page Link: Add a link to your project posted here on Lettuce Craft, or to a recipe, pattern, etc.
Brief Description: How it fits the requirements, pattern/techniques used, any fun tips, etc.
Project Picture: REQUIRED! No picture = No House Points
~ABOUT ELIGIBLE HPC PROJECTS~
-Projects should take a minimum of 30 minutes to make.
-For a project to be counted, it must have a picture or a link to a picture included at the time of posting . If your item is a private piece, or is being kept secret for a Swap, you are more than welcome to send a Private Message directly to the the Headmistress.
-For any cooking/food project, in addition to a photo, you must post a complete recipe , or a link to the recipe you used. No recipe = no points.
~HPC FAQs~
-Do you sort me? No, you decide which house you belong to.
-I have a problem or question; who can I ask? You can send a Personal Message (PM) to Headmistress @MistressJennie . You can also ask questions in the thread; our participants are very helpful!
-Are we swapping? No, this is not a craft swap.
-Do I have to craft all the classes & challenges? Nope!
-Does my craft project have to be Harry Potter themed? No, craft anything you like.