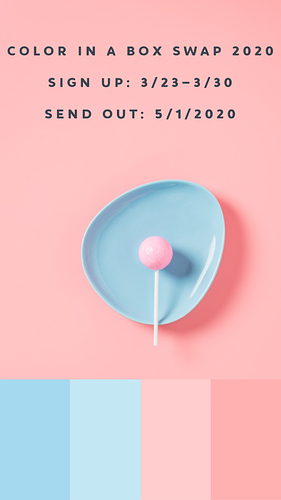 This swap is so much fun! Pick your favorite color (or it can be rainbow or a color scheme, if you can't pick just one) and your partner will craft some awesomeness for you.
Swap name: Color in a Box Swap 2020
Organizer: kittykill
Sign-up date range: 3/23-3/30
Date to send item by: 5/1/2020
Limited to a certain number of people? (optional): 40
Restricted to people who all live in the same country? NO
If so, which country?N/A
Additional Age requirement? No
For this swap you must meet these conditions
Has been a member for at least one month
Has posted at least 15 times
Is not currently signed up for more than five swaps
Participant has agreed that he/she is at least 16 years old
If within the US, understands that Delivery Confirmation number is required for this swap
If outside the US, understands that a mailing receipt copy is required for this swap
Swap Organizer himself/herself meets these conditions:
Has fully read the Swap Info Guide: YES
Has successfully completed two swaps as a participant: on the old site, yes
Is not organizing more than three swaps right now: YES
Will recruit a co-organizer or give all details to a Swap Moderator if this swap has more than 25 participants: YES
Is at least 18 years old: YES

---
In the Color in a Box swap, we'll be sending our partners a color inspired package filled with bright and cheery crafted goodness! We need a little color and happiness now more than ever so lets really shine.
Swap Details
Requirements:
One medium crafted item
Color (or colors) specific (As chosen by your partner) 4 or more happy package fillers ( candies, journals, small crafted items)
Posting to this thread once a week.
Have fun!!
If you want to fill your colorful box with more than 4 fillers you can indicate so in the questionnaire and be partnered with someone else that wants the same.
---
If you want to participate, information to send to organizer aka kittykill:
Questionnaire to Answer:
Name of swap: Color in a Box 2020
LettuceCraft username:
Email address:
Your real name:
Your mailing address:
Would you be willing to ship to an address outside your own country?
Confirm that are at least 16 years old or, if not, that you have moderator approval(YES/NO)
Would you like to send and receive more than 4 fillers (YES/NO)
Do you have any allergies?
Do you have any allergens in your home (cats, smoke, etc)?
What is your favorite color (or color scheme)?
Please list some ideas for colorful goodness you'd be happy to receive:
1.
2.
3.
4.
5.
Please do not send me:
Do you have any inspirations that would help your partner personalize your package (Pinterest, Etsy Favorites, Flickr, etc)?
Anything else you'd like your partner to know?
IF YOU WANT TO PARTICIPATE, REMEMBER TO SEND YOUR INFO TO ORGANIZER VIA PRIVATE MESSAGE AND NOT TO REPLY WITH IT HERE.
Particpants:
@kittykill
@LuckyXIIICreations
@MightyMitochondria
@Nicole
@anna.wahnsinn
@jemimah
@SalubriousAimee
@Raury
@Ewulotta
@roler
@Lynx2Lancer
@ilovesnaills
@RagingSloth
@amazing_784
@AIMR
@Edel
@AudiobookLover
@lindyv321
Sent (s)
Partner Received (pr)
Late with Communication (lwc)
MIA
Partners:
kittykill(pr)-AIMR (pr)
Raury(pr)-ilovesnails (pr)
Ewulotta(pr)-anna.wahnsinn(pr)
jemimah-edel
roler(pr)-lindyv321 (pr)
lynx2Lancer(pr)-RagingSloth(pr)
Audiobooklover(pr)-MightyMitochondria(pr)
LuckyXIIICreations(pr)-Salubrious Aimee(pr)
Nicole(pr)-amazing_784(pr)