This is one of my most favorite things I've ever made and it was a beast. I posted it on the old site back when I made it, but only in my craftalong as I was too nervous then to jump into the deep waters of the "completed projects" spaces. With others posting some older favorites I thought I would give her her due by adding her here.
The Story:
In the fall of 2013 a good friend (who appreciated my yarny things) was getting married and having a "geeky wedding." Her favors were little nods to different fandoms of the Bride and Groom. She asked me to make tiny knit hats from one particular (cancelled-after-one-season-how-could-they?) show and that gave me the idea for her wedding gift. Under the guise of general wedding jibber jabber I stealthily asked what their top fandoms were. I then scoured the interwebz for free patterns involving the named shows. May I present to you- in a mix of crochet and knit- The Coverlet of The Seven Fandoms: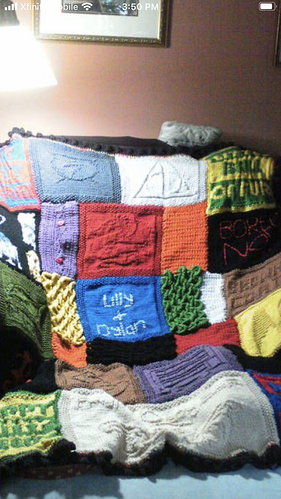 We have Buffy, Star Trek, Star Wars, Firefly, Game of Thrones, Big Bang Theory, and Harry Potter.
The blocks:
Big Bang Theory: The 4 corners are the lyrics to Sheldon's lullaby, "Soft Kitty."
Buffy: Logo, "I'm Bored," blocks
Firefly: A leaf, "Browncoat," and "fruity oaty bars"(with octopus) blocks
Game of Thrones: The center square is bordered by a dragon block and 3 "dragon scale" blocks in the colors of Daenerys' dragons.
Harry Potter: Cauldron, Deathly Hallows, Knight Bus, sorting hat
Star Trek: Insignia badge,
Star Wars: Storm Trooper, R2D2 and C-3P0 block.
I patchworked the blocks together and then filled in any open spaces with plain patches and one (the purple with the buttons) is a block to hold the purse-sized packs of tissues for when their shows are too emotional or cancelled. (Or both!) I bordered them first in a variegated yarn with most of the blocks colors represented and then in a rich chocolate brown using a popcorn stitch to bring old-timey marquis lights to mind while not being too visually loud. Finally, I backed the whole thing in a chocolate colored fleece that I hand sewed on (some while we were driving to the wedding!) as I don't know how to use a machine.
It's still in a place of honor in their living room and holding up well, I'm told.


*(I have to go dig out my old camera to get a better pic/any closer pics of blocks, but this gives you an idea of her size and look.)
Thanks for looking!