I remember seeing my first assemblage on the other site. I believe it was a bright pink one made my @sheepblue. Since that time, I have been watching the wonderful projects from her as well as my assemblage crush and mentor, @geekgirl.
I finally tried it…I was skeptical at first that a group of mismatched and seemingly unrelated items would work, but was encouraged not to think too much and just do it! I even posted an in-progress pic and decided it was not good at all.
Well, today, bored and feeling unproductive, I decided to go outside and spray paint the darn thing. A few brushes of metallic gold paint, and wow…transformed!
Of course, now I want to glue and paint all the things that are not being used around the house…

Thanks, ladies for the inspiration and encouragement to try something new!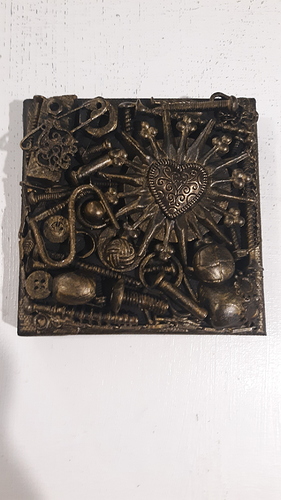 ha It is sort of an adult I Spy when it is done, isn't it? Buttons, beads, screws, earrings, safety pin, necklace, thingamabob…