In the spirit of sharing even those things I do not consider myself fairly good at. This is a digital drawing of Shadow and Mr. Squeakers.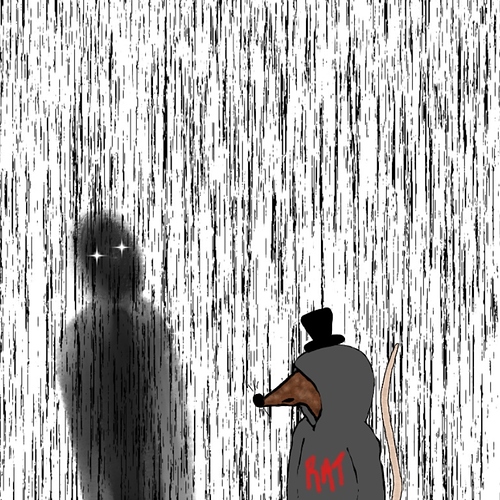 Shadow: Mr. Squeakers, I cannot tell you how glad I am that you contacted me. I did so wonder if we would see you again after the Johnson Massacres.
Mr. Squeakers: Squeak.
Shadow: Indeed. The body count was quite high; wise of you to lay low. But I am glad you have returned as I have a very important job for you should you be willing to take it on.
Shadow and Mr. Squeakers are based on characters Ari and I created on a walk. We are considering turning their conversations into a short webtoon series. The premise of our two characters is that Mr. Squeakers is an assassin. Shadow frequently contracts his services; does Shadow work for the government or a private agency? Who knows? But the funny part (to us at least) is that Shadow has a tendency to also request the most ridiculous services from the ratty assassin including picking up milk for his elderly neighbor and rescuing cats out of trees.
I think perhaps the true art is how we come up with the stories. Ari and I actually have impromptu conversations as these two characters while walking about the neighborhood. I feel like this is maybe a really weird thing. Is this a weird thing?

Anyhow, to prep for the possible webtoon, I drew them using an app Ari uses. Somehow I got roped into drawing them both.

Fitting as Mr. Squeakers contribution to all conversations is to merely squeak and squawk. Yes Ari takes on the role of Mr. Squeakers.
Ari would like me to acknowledge that squeaking and squawking is a lot of work and really hurts your throat.