Beautiful! And how awesome that you did those great alterations. Great job, really!
This is beautiful. I love the wings, the sequins are just perfectly placed.
This is lovely! I love every little detail you've made! I really enjoy working with felt and embroidery so much, my mom would love a pretty little bird like this, perhaps if I start now I'll have one finished by Mother's Day.

This is gorgeous! Love the modifications your made…and the extra sparkle from the use of sequins

This is very nice and your personal additions definitely add to the overall beauty of this piece!
How lovely! And your stitches are so perfect. Beautiful work!
I love him hanging from my rearview mirror…I just have to decide if his movement ends up being too much of a distraction while driving.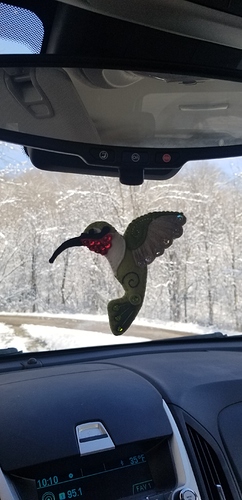 He's kind of big for a rear-view mirror dangler, IMO. Looks cute there, though.
I'd either put him in a window or stick a long skewer in his belly and put him in a planter. Or use him as a Christmas tree decoration. Or just randomly hang him from the ceiling or an air vent somewhere in the house…
Yeah, that's what my dh said too. But, me being me, I had to try him there because he's so dang cute there.
I love the little splashes of sparkle with the sequins.
Congrats! Your humming bird is one of this week's featured projects! Way to go!
Oh, my hummingbird was featured, too! Way to represent, hummingbirds!
Congratulations on the Feature!
Oh my. This is beautiful.
This is gorgeous! I love the little touches of sequins and beads and the three-dimensional-ness of it. Your stitchwork looks so tidy and uniform too. Beautiful job!