Tell me about this Garage Sale, please! I searched the old site but couldn't find the real lowdown.
I got so many beautiful, amazing items!
How does it work? Is the money going to help this new site? Can I contribute?
And every time I review the sold items I see so many that were snapped up before I ever even got to spy them on the For Sale list! So it's still a hopping place to list items.
Those stamped bracelets.

Everything is GORGEOUS. I like how varied it is - something for every taste, it seems!
Damn, there's stuff that sold that even I didn't see before it got snatched!
I need the email sent to me again to donate stuff. I waited too long and now I can't find it amid all the craft emails. lol
I'm sending you the contact email via PM now

@Magpie, thank you so much for the link to the explanation. I knew it was in that thread somewhere, but I was backing up from page 84. I can see it would have taken me a really, really, really long time.
I JUST SAW the pieces from @jemimah!! the rabbit and the elephant?! Ugh! I thought i was stalking the sale pretty closely!
OMG there's lettuce greeting cards in the shop now! So stinkin' cute!
As soon as I learned the site name I found the cutest Lettuce stamp set! I had to have it!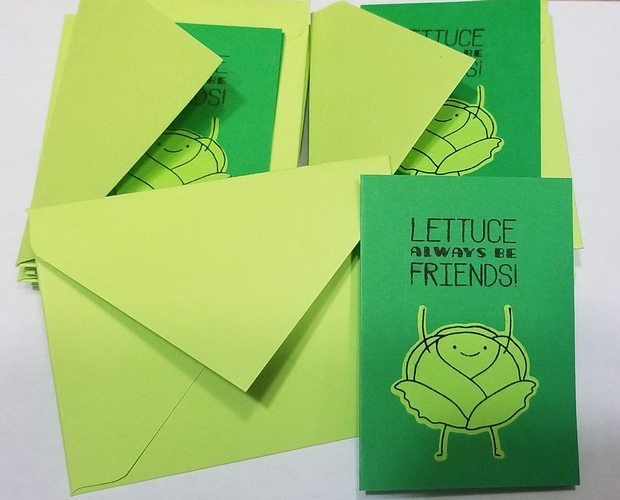 Atc size cards, ya'll!
OMG. I love the cards!! How smart of you to theme crafts to the new name, L2L!
EDIT: I BOUGHT THEM. I couldn't resist. Though I feel a little guilty that I don't ATC…
Uhh… that is so easily remedied. Seriously, come on now grrl

Those are deliriously adorable lettuce cards, I am in total love.