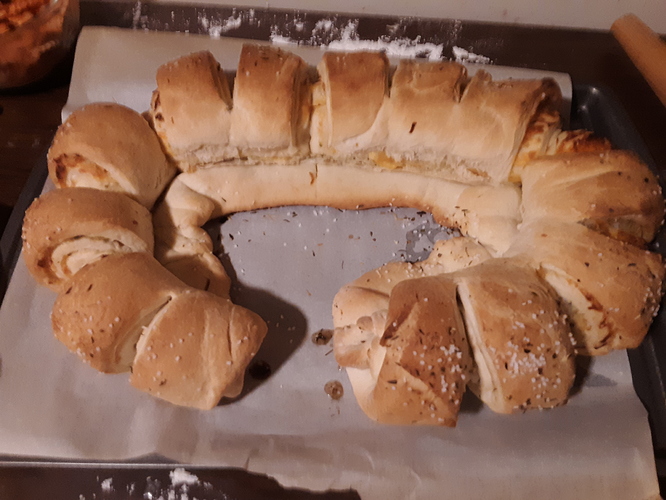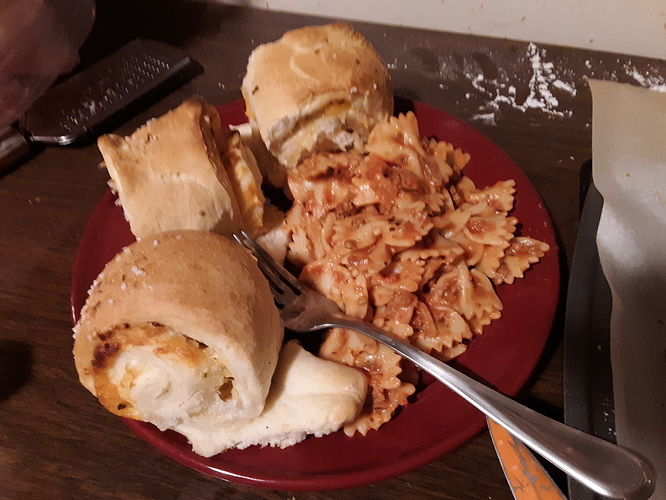 Dough
1 c. warm water
2+1/4 tsp yeast
1 Tbls sugar
Mix and let stand for 10 minutes
Add 1 tsp. salt and 2+1/2 cup flour. Knead for 10 minutes. Place in a greased bowl til it rises twice its size. About 1 to 1+1/2 hours.
In a small pan sautee 3 finely chopped garlic cloves with 1 Tbls butter. Then melt 2 Tbls butter into the mixture and blend with 1 tsp dried parsley, 1/2 tsp oregano, 1/2 tsp thyme, and salt to taste.
Preheat oven to 400 degrees (I don't know if this is what did it, but man, this was the best one I made yet).
Roll dough into a rectangle about 1/4 to 3/16 of an inch thick. Spread the garlic butter over the entire top of the dough, and roll the dough starting with the thinnest side. Place on baking sheet cover with melted butter, and bake for 23 minutes.
options
Add pepperoni, and/or fresh spinich, any cheeses you'd like (the pic above has mozarella and cheddar, and topped with pretzal salt, grated aged asiago, and some marjoram and thyme).