For the Cozy Toes Swap, I made this for my partner (now known as @MightyMitochondria). It's actually a very pretty, glittery silver, but the lighting wasn't great when I took the photo.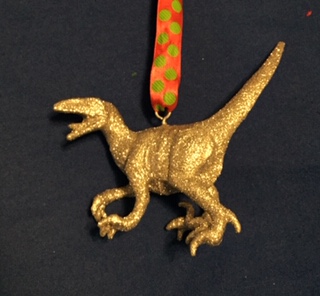 I did most of the steps at school so I wouldn't have to A) smell the spray paint and B) have glitter in my house!

First, I attached a small screw eye to a dinosaur toy. Next, I spray painted the entire thing silver, just in case I missed any spots with the glitter. I hung the ornament from a cabinet in my classroom and placed a box underneath (I lined the box with paper to catch the glitter). Then, I grabbed a broken paintbrush from the art teacher at school and started applying glue in small sections. I sprinkled the glitter (micro-fine) onto the glued section, and continued in this fashion until the entire thing was covered. I left it hanging in my classroom overnight so it could dry. The next day, I took it home and, since the glitter was flaking off in spots, I hit it with a coat of sealant. Once it was fully dry, I added the ribbon. I really love how it came out, and may need to make one for myself.