Drew a template, cut four, and assembled. Resized template on copy machine to make other sizes. Each is four-sided.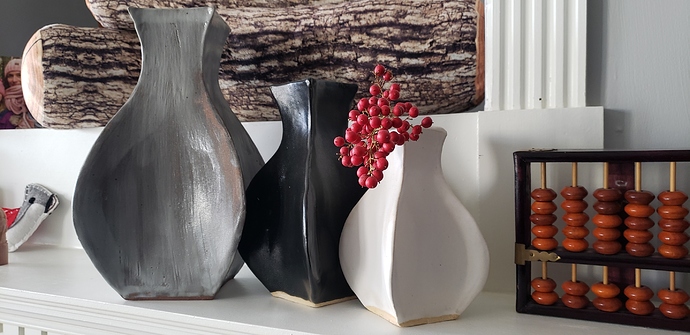 That's so cool. Makes me miss having easy access to a ceramics studio

Nice, unusual shape. Very interesting glaze too, I like the shiny hematite black.
Oh my goodness! These are gorgeous! They totally look like they belong in @sweets4ever's house.
Neat! They are so beautiful, but also have that wonderful handmade feel to them.
WHAT. These are gorgeous!
I need to try more slabwork – These are awesome!!
Bookmarking to try soon! Thanks for sharing.
Wow, wow, and wow! I've been looking into kilns and have been trying to get a 110V one, but seeing this makes me want to go BIG! Lovely!!!
I love the shape of them and that you have a grouping of them too. Very interesting the dynamic between angles and curves!
They are really pretty, love the glaze you choose, and great that you made it in different sizes
Very cool! I love the combination of graphic and earthy you got from using 2D pieces to make a 3D shape with the texture of the hand-built clay.
Thanks, all, for the kind words! It's so good to be posting in this community again. It had been far too long. My Photobucket account was long dead, and posting photos to the old site started to feel like more trouble than I had time for… then I just kind of let it fall off my radar as my making turned almost completely in the clay direction. It sure is good to be back, though. And I just noticed I'm in the featured projects! WHAAAAT??!