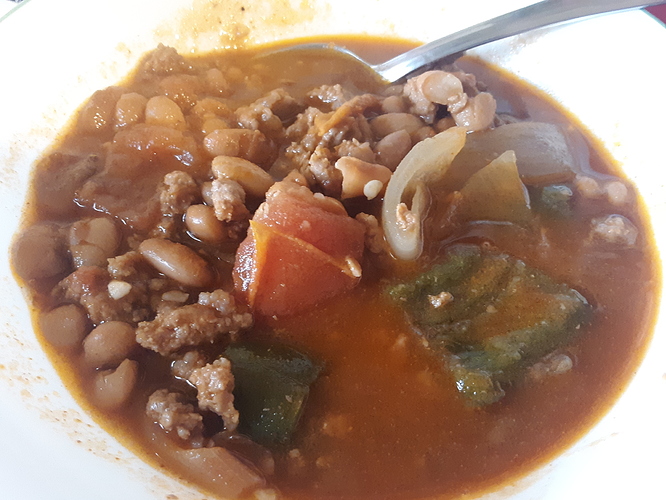 Made enough so my kids have to come by to get some, heh.
2 lbs hamburger
1 pkg, 16 oz pinto beans.
6 Roma tomatoes cut in halves.
5 or 6 jalopenos cut in 1 inch pieces.
1 whole onion
3 cloves of garlic (the more the merrier)
1 tsp cumin
1/8 cup chili powder (add more if needed)
1 tsp paprika
1 15 oz can of tomato sauce.
Salt and pepper to taste.
Start grill and put the dutch oven over flames with enough water to cover the beans fully. Cook until the beans are tender.
Toss in all ingredients. Cook til onions, tomatoes, and peppers become soft.
Serve.
For a more thicker chili, pour out most of the water before adding all the ingredients.
If your store isn't out of them, which the one I went to was, dad gummit, put in 3 green chili peppers sliced in 1/4ths in with the jalopenos.
To make a chili that's perfect for putting on pancakes, pour out all the water and put in a whole large can of tomato sauce in place of the 15 oz can of tomato sauce.