Easy, fancy-looking dessert that doesn't wreak my husband's and my diet.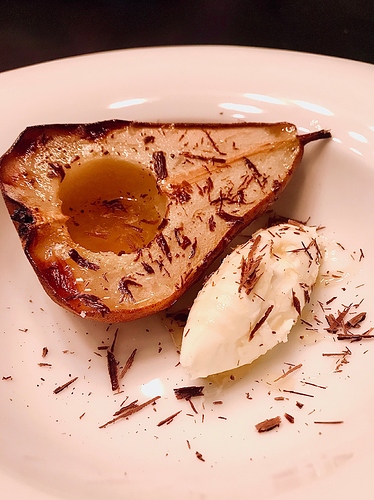 Halve and core Bosc pears (one for every two people for a small dessert-one per person, etc for a more filling one).
Roast cut side up in a 450 oven in a pan with sides for ten minutes. Brush cut sides with a tsp or two of honey and add a half cup of water to the pan. Roast until soft and slightly browned. Allow to cool to warm/room temp or chill in fridge–all are great.
Serve with a tablespoon or so of softened marscapone cheese, a drizzle of honey, and a sprinkle of salt (I used maldon flakey salt, but a tiny pinch of kosher or a super tiny bit of table salt will do). Grated dark chocolate was nice, but not necessary. Yum!