thanks!
Those snakes are so cute! And I'm in love with the flower/snake card
My package came today!!! I got something so wonderful, I can't wait for slightly better light to get pictures to show you all!!
Hooray!! Mine came too. I'm in the same boat. I need to take pictures tomorrow because my house has dungeon lighting.
I'm so excited to see the goodies!
My swap package from @pathfindergarou arrived today, and WOW! did they spoil me. I love everything! Pictures to be posted soon. Also Ren I'm glad you received your package and like it. Also glad cause I can now post what I made you in this semester's Harry Potter Craftalong thread

Hmmmm, I am so excited that you received! I hope you llliiiikkkkeeee iiiitttt!!!
I LOVE, LOVE, LOVE IT! Thank you!

I received the most beautiful, thoughtful package from @Magpie yesterday. First of all, I would like to point out that she carefully wrapped each item with glitter tissue paper, whereas I wrapped her package with two garbage bags. At least I used the GOOD garbage bags.
First, these beautifully hand stamped cards. Look at Brigid's Cross! Look at the lovely gold edging! How did she know I actually have a lot of card writing to do right now? These beauties will get used quickly for some very important thank you notes.
Next, a lovely Magpie ATC with her address on the back. I adore it. The orange and the bird are so perfectly her.
I could smell this calendula chamomile soap as soon as I opened the box! I am passionate about handmade soap. I even brought some to the hospital for my last two births because a) hospital soap is gross and b) a new mommy should be pampered. I can hardly wait to use it! Look at the lovely bits of calendula coming out of the top!

This bohemian bag is the perfect size for a project bag, which I really need. I adore the colors and the fact that they are different on each side. The stitching design is just lovely and so precise. I'm so impressed with how she used the embroidery to attach all the lovely mirrors. EDIT: I finally got a chance to sit down and look closer. The stitches are Brigid's Cross!! Wow, wow, wow! Magpie is truly amazing!

She made these lovely earrings that GLOW IN THE DARK! I'm sure she stalked me on this one because I adore mismatched earrings. My little girl is going to steal these for sure. I'll let you know how long it takes her to thief them.

The last two items are my absolute favorite. I can't decide which ones I adore most. First, this thing. I was so excited when I unwrapped it. At first I was like, is it jewelry? How do I wear it? Then I finally realized it is a door hanger! I love it. Look at the gorgeous patina on that key. The whole thing is just fantastic.

Finally, this amazing necklace. There is so much to say. The stitching is perfect, the fabric print is 100% me, and the tiny acorn at the bottom is a delight. But the true WOW factor is when you open it up! A sunrise! A sunrise! How amazing is that? I love, love, love it.

This has been the longest and most miserable January of my life. Magpie, it means so much to me that this artful, thoughtful package arrived on the very last day of this terrible month. I think it must be a sign for better things to come. Thank you.

Okay, so @PhoenixWolf and I bonded over bring non-gender conforming Crafters and they made me the sweetest package! Not only did I get a bunch of awesome stickers, but also Pride bookmarks that will do me a lot of good because I've started reading more lately and I'm back to using whatever is within reach to mark my place.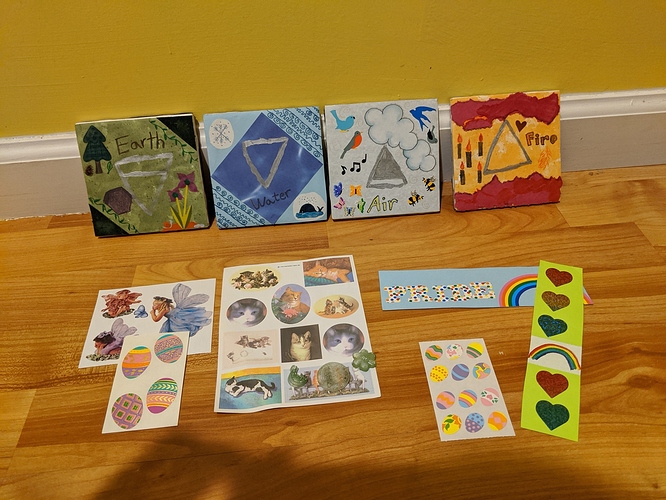 But also the shining glory is these lovely element tiles (which I thought was so funny because I made them something based on the elements as well)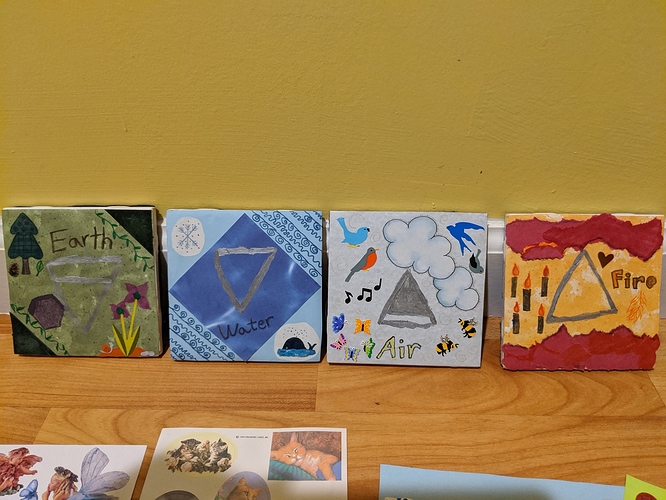 Thank you so much Phoenix for being my partner!
Those element tiles are so cool! The details on the earth tile's tree are a delight. That pride bookmark is fantastic.


My favorite thing about swapping is the friends I have made. The fact that you two found something so special and important to bond over makes my heart so happy!


This. So glad you two connected and got to make great things for each other based on shared interests. That's what swapping is all about!
Wow @magpie that swap package is awesome. And @PhoenixWolf those tiles are great.
Happy (belated!) Imbolc everyone
@Magpie I just adore the small pouch necklace! And the hidden sunrise? With the wee acorn?? I'm dying!
I also find the door bell interesting. A classic upgrade from a jingle bell!
@PhoenixWolf The Earth tile colors are my jam!
In housekeeping news, the Ostara swap closes tomorrow. If you are interested, please see details in the Disc channel. Hope to see you there!
Just saying that I love all the projects…
Yes, everyone is super talented! And we still have 2 swappers yet to post (one arrived, one still in transit), so make sure to check back!
Wow, this swap is the coolest! @Magpie, SERIOUSLY sweet stitching! And @PhoenixWolf, love the detail in the element tiles!
@MightyMitochondria and I did a side swap along with this one so some extra things got mixed in to the bunch, they all sort of ended up fitting the theme though.
The key and bell door hanger are a traditional ornament meant to attract good things, keep negativity out and positivity in. The key was my dad's, I inherited some cool stuff from him that I feel needs to go out into the world.
Those earrings have small GITD beads that were sent to me a really special crafter I haven't heard from in many years. I could hoard them but this season is all about clearing old to make room for new, and that means some of the precious stuff too. It can't sit around in stash forever or it loses it's meaning.
Great swap so far, I have really enjoyed this gallery a lot. What a fantastic group of crafters we have here.
I am so very temped to join the Ostara swap but I'm feeling pressed for time. I will watch all the beautiful creations and wish I could travel back to today to sign up I'm sure!
Okay so as I mentioned, @pathfindergarou absolutely spoiled me with the swap package they sent.
Pic of everything: a pentagram wood-burned onto a lovely birch slice, a homemade? cinnamon candle, a pack of incense, a cute zipper pouch with extra fabric of the same print, and a box with a triskele painted on it.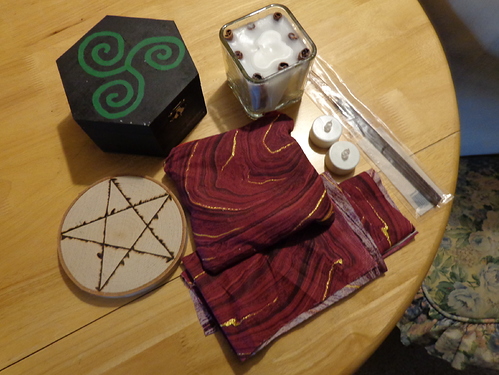 But wait there's more! Inside the zippered pouch were these five painted rocks, one for each element and then a non-binary pride one with a pentacle.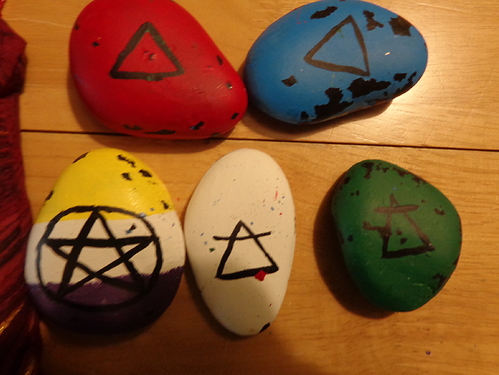 We're not done yet! Inside the wooden triskele box were a gorgeous piece of flame print fabric, two flameless candles, and 10 tiny jars. Four jars were filled with gemstone beads (one jar broke during transit). The others contain different herbs/spices/powders - I'd love to know what's in each one.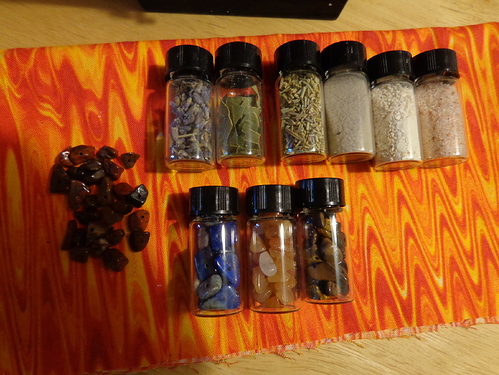 Ren, I loved getting to know you via this swap. Thank you so much!