Happy Saint Patrick's Day my friends! While we are all in social isolation and cannot share a pint together tonight, I thought we could at least share recipes. This year I found some Irish bangers at Aldi, and couldn't resist making up a little feast for DH & I while we're home together.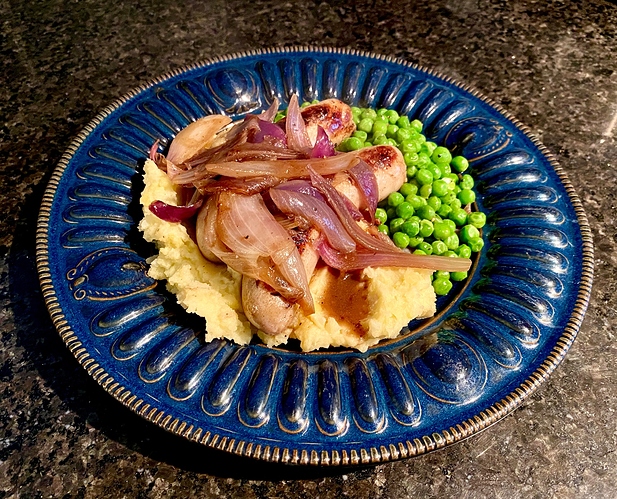 Irish Bangers and Mash with Onion Gravy with Buttered Peas


Bangers & Mash
1-2 packages bangers
2 lbs gold potatoes, peeled and large chopped
1/2 stick butter
Milk of choice (I used cashew milk)
1 tsp dry mustard powder
Onion Gravy
1 Tbsp butter
1 large onion, sliced
4 cups (1 tetrapak) vegetable broth
1 cups red wine or water
Peas
1 16oz bag frozen peas
3 Tbsp butter
2 tsp sugar
3 cloves fresh garlic, minced
Salt & pepper
1-2 Tbsp fresh mint, chopped
Directions
Preheat oven to 200 degrees, or whatever the lowest setting is.
Cook the sausages in a skillet over medium-low heat until nicely browned on all sides; transfer to an oven-safe dish or pan and move to the preheated oven to keep warm.
Place the potatoes into a saucepan with enough water to cover them, over medium-high heat, and boil until tender, and easily pierced with a fork. About 15 minutes. Drain and return to the pan. Sprinkle over the dry mustard, salt & pepper. Add in the 1/4 cup of butter, and a splash of milk. Mash to your desired consistency. I like mine with a few chunks. Set aside.
While the potatoes are cooking, start the onion gravy. Melt 1 tablespoon butter in a large skillet over medium-high heat; add the onions and cook until they are translucent and starting to brown, about 8-10 minutes.
Reduce heat to medium, and pour in the vegetable broth and red wine. Boil the mixture down gently, until it's about half the volume it was. It should take about 10-15 minutes. Season with salt and pepper, and keep warm.
When the gravy is close to done, heat a medium skillet over medium heat. Add the butter, peas, sugar and garlic. Cook, stirring occasionally until the butter is melted, and the peas are heated all the way through. About 5 minutes. Stir in the mint, and remove from heat. Season with salt & pepper.
To serve, place a large dollop of mashed potatoes on one side of the plate. Place 1-2 sausages on top of the potatoes, and smother them both with a good ladle full of the onion gravy. Place the peas on the other side of the plate.
Pretend that the vegetables on your plate make up for the whole stick of butter in your dinner. Pour a favorite beverage, and enjoy with someone you love. Keep each other close in your hearts & spirits right now, even if we're kept apart in person.


Slàinte!