Ok, so technically, I've owned my sewing machine since like 2008. But, in all honesty, I didn't use it very much and it's been buried under a mound of other craft junk for like 10 years. But, I was inspired to dig it out and try and make myself a mask.
I have to give a huge shoutout of thanks to past craft supply partners on cster that sent me all kinds of sewing things back in the day. It's how I had fabric, and a self-healing mat and stuff on hand.

Took three hours - because I needed to look up how to thread my machine again and draw up my thread (I forgot) and I had to make a bobbin (which I remembered!) - and it's literally the least perfect thing ever, but you know what? I DID IT. Two layers of cotton with a pocket for a filter. I didn't have elastic so it has grosgrain ribbon ties.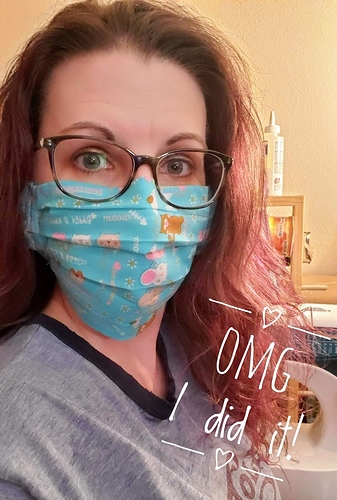 I'm feeling exceptionally accomplished and I am going to keep at it to try and make some more now that I've managed to do it successfully.

Who knew that pj's and face masks were going to be the hot fashion look for Spring 2020?