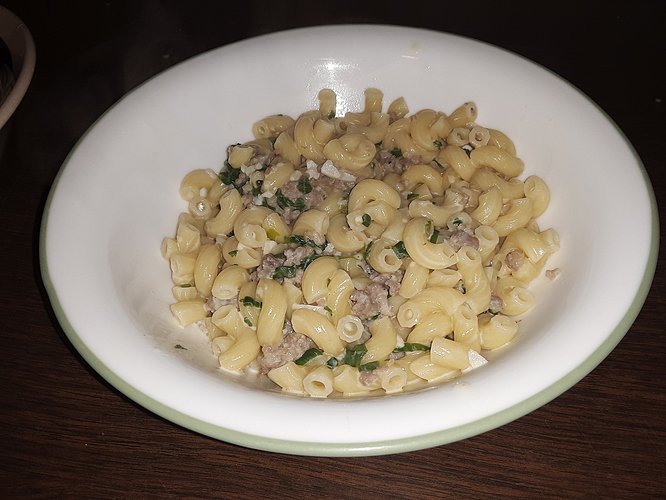 Made this while stress cooking, heh.
1 Sweet Italian sausage link (discard the skin).
2 cloves of finely chopped garlic.
2 Tbls. Green onion.
1 c. Chopped spinach
1 Tbls. Chopped parsley (didn't have)
1/4 c. Chopped tender horseradish greens (I used less for my wife).
Sliced portabella mushrooms (didn't have)
1 tsp. Lemon juice (last addition, and actually works in this).
1 c. Milk
2 Tbls. Dried parmesan.
Fry the sausage and set aside. Saute the garlic in one tablespoon butter. Mix in sausage and wilt the spinach and horseradish. Mix in milk, onions, parsley, parmesan. Bring to a boil, add salt and pepper to taste.
Pour into your favorite prepared noodles.
Options
Use half or 3/4 cup of heavy whipping cream instead of the milk so it thickens up a little more.
I bet capers and/or artichoke hearts would go good in this with how runny it is with the milk.