Anybody here making their own kombucha?

I have never liked kombucha. I've tried all the samples at farmers markets. I've tried different flavors when That One Friend brings them to a party, trying to convince everybody it's good. But it's just not my kind of… I don't know, flavor profile? I prefer my fermented beverages to be in the grape family.

Then I saw a SCOBY for the first time.

But I've also heard about all the health benefits, which is why I keep trying all those samples.

Well, every year, when my aunt comes up for Christmas, she brings me something. Her latest knitting project, so I can hopefully help her troubleshoot this issue she's having… an old vintage sewing machine that probably, definitely doesn't work… and this year, some fabric pieces and a SCOBY (actually, two).
Well, great. There went any excuse I had to not try making my own. I started it that night (one week ago), and tonight, I'm drinking kombucha, and not hating it. Dare I say, maybe even enjoying it?
I think the key for me is that I get to taste it as I'm going, so I get a level of acidity I'm comfortable with.
I only had black tea in the house, but my aunt said she's had the best success with green tea, so I'll be trying that eventually.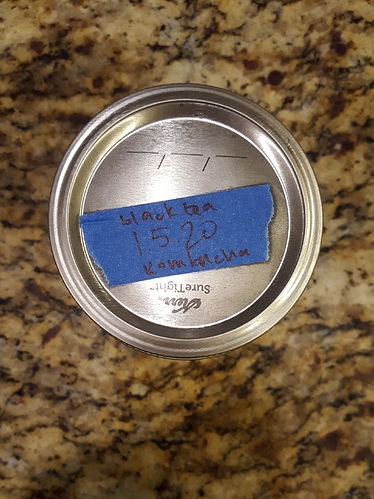 (1.5 is the day I took the SCOBY out to finish fermenting on its own.)