Is cross stitch allowed in the Stitch Along?
I'm starting to search for a pattern now. I think I will cross stitch since that's my current obsession. And I need to find a pattern with swears.
I love using coloring pages as my embroidery patterns. The inspiration for January's "home" theme was found on activityvillage.co.uk: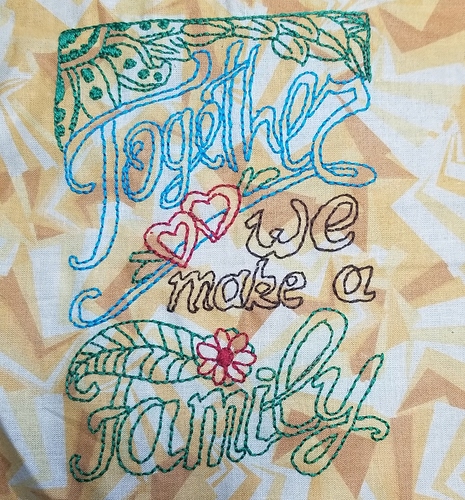 Family is what makes a house a home, and we are a crafty family!
(The fabric is yellow, bit isn't accurate in this photo.)
There are not enough loves for this!

Firstly, that looks amazing, so colourful and simple and pretty.
Secondly, you have me an idea for the perfect project to make for January!! Thank you

Oh, I love this! I'm not feeling inspired by the cross stitch patterns I'm finding. This is making me consider switching to embroidery.
I love the sentiment, the timeliness, just…perfect, all of it!

Oh it's lovely! And so fitting!
Ooohhh. I love the theme.
Thank you everyone for the compliments. I'm excited to see others take on the theme.
It's been such a long time since I did much embroidery, I can't even remember what my last project was! (And we won't talk about the UFOs stuffed in the back of the shelf…)
But @kittykill, @Lynx2Lancer, and all of you - you and this theme have inspired me to pick up my needle again

I started a new little project today. Enjoying it so much! I'm looking forward to seeing what you all create!
I stitched up this towel. I love candy colors and funky pastels so I decided to stitch the houses with upbeat colors.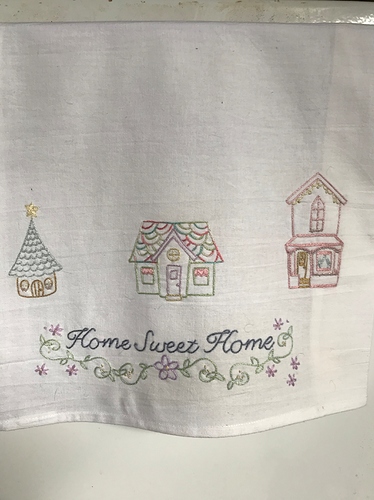 So cute! I love the fun colors.
What a cool idea! Love this stitchery!