That is darling! Sweet colours

Beautiful stitching, @kittykill! The little houses are adorable.
@kittykill awww–what a nice sentiment! So many ways that a house becomes a home!
Here is my in progress shot for the January theme. I am not a cross stitcher so I sort of had to figure out how to do this that made sense to me. Here are my chicken scratches…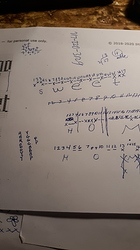 Almost done…need to cut it out, frame it and then I will post the entire thing…took me way too long and it is a bit wonky but I did it!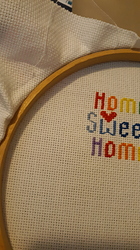 Done!
My nephew and his partner recently moved to Portland. I have had this in my queue since they moved into their first home 10 years ago. Well, finally, I completed it for their second home together. ha ha It is not perfect but it will appeal to their wicked sense of humor and love for each other.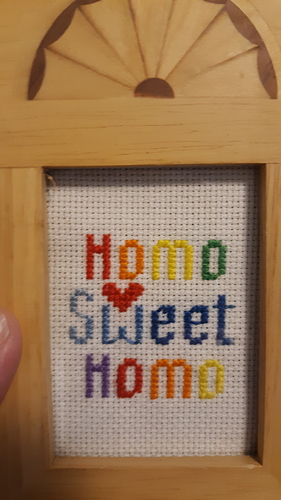 I saw this thread the day it was posted and haven't been back until today. There are so many lovely projects! I have never done a craftalong, but you all have inspired me to combine two into one. I really need a small project bag for embroidery. I currently use a gallon ziplock bag until my embroidery scissors and needles stab the bottom out. It looks pretty classy when I pull it out in public.

. Here is my plan: I am making lots of little "home" themed pieces. I will make more from February's theme. Then I'm going to put them together like a crazy quilt bag. I can submit the embroidery to this stitchalong and the bag to kittykill's "Put the Fun in Functional" stitchalong. I'm really excited because I've never quilt pieces anything and I love the idea of not knowing what will be in February's blocks until the theme is announced.
I am excited about this already!
That sounds like a great plan!
@AIMR that is great! They will have to look us up since they are in Portland.
OMG, I had to look twice. I LOVE IT!!
Let's hope the grandmas only look once

…actually, the whole family will appreciate it…
@kittykill the little houses are absolutely adorable

@AIMR I am super impressed that you plotted that cross stitch out yourself. I've done quite a bit of cross stitching and have not been successful with drafting my own patterns.
I did finally find a cross stitch pattern I love and have started working on it. It's super PNW with Mt Rainier and lots of evergreen trees. I hope I will finish it by the end of the month. I think I'm going to turn it into a pillow.
Sounds like it will be a large and quite pretty piece! After doing just that little cross stitch, I realized that I am not paitent enough to tackle a large one. It was relaxing and fun.
Can't wait to see all of the lovelies in this thread…I will be a frequent visitor.
Perfectly stitched piece, AIMR. Great work!
I don't remember the last time I embroidered anything. I guess Lettuce Craft (and new beginnings) has inspired me to go find my threads! We'll see if I can finish anything for this month!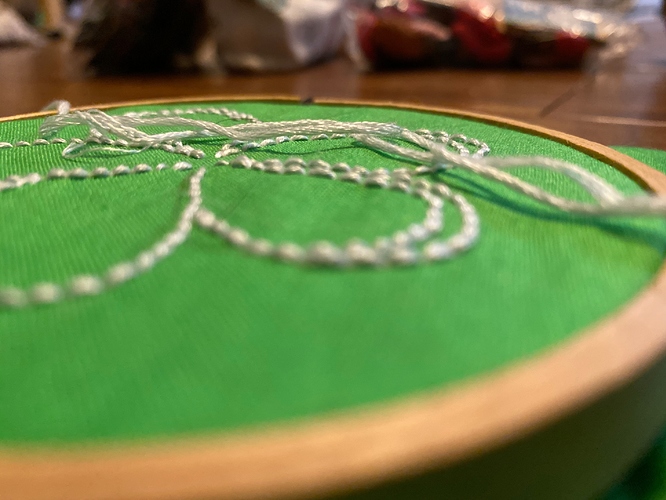 Looking good! I'm stitching after a long break too

@AIMR that is great. I love it.
So I stitched this today, inspired by "home". A mushroom, why it means home to me, is not really a story I can tell. I wanted something to work on today as part of my make something every day in January resolution. This stitchalong was the inspiration.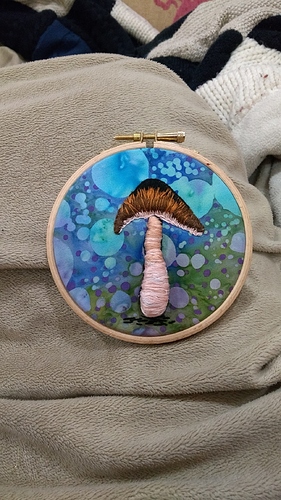 I am mesmerized by the background fabric. Is it painted or a batik? So pretty and perfect for your project. Is that stumpwork?
So awesome!
Yes it is a batik, really nice, I think someone sent it to me in a swap once. And yes it is stump work, I created a thread for it, that has another photo or show the depth (height?) of it. Stumpwork mushroom