I could have posted this the first day this awesome community opened, but I've had so many wonderful things to explore, so many projects to read and comment on, that I decided to wait because I'm in no rush, this site won't disappear.
The idea to make this came to me a while ago, but it wasn't until this last autumn that I really started making it.
I finished it in December, right before the old site closed, which is why I think it should be my first post here.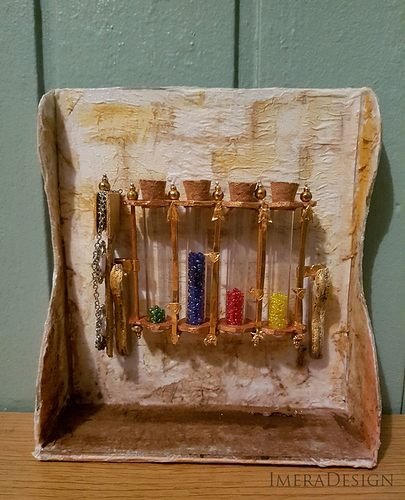 The items I used was plastic test tubes with seed beads, some foam board, metal from a chocolate medal, wood sticks and spacer beads, and some chain and findings on the side. The walls is just painted on a card box lid.
The number of beads represents the amount of points each of the houses had during the last term of the Harry Potter craftalong, and while Ravenclaw had most points, it was Gryffindor who won.
What I love the most are the tiny count indicators, they are actually not glued down and can be moved.