Since we could all use some good cheer and a bit of luck right now, I've moved my recipe for Guinness Stew over from the dead site. Even if you can't make it tonight, enjoy reading about how I accidentally got super drunk making it last year.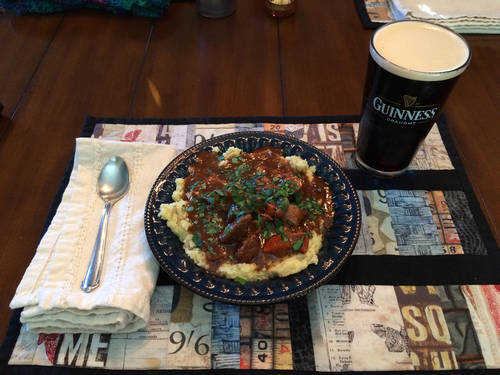 During one of many years I spent working in summer stock theatre, several of us technicians ganged up to buy groceries and cook together. We weren't making enough money to each feed ourselves, but if we all chipped in and bought in bulk, we could afford to eat a bit better, both taste & health wise. We jokingly called ourselves The Commune, much to the unhappiness of some of our housemates. We would get together to look over the grocery store ads, and plan meals based on what was on sale. Everyone in the group was responsible for something, planning the meals, doing dishes, setting table, cutting up veggies, and cooking the foods. Over the course of the summer everyone ended up calling parents to get favorite family recipes for us to share. Of course being theatre technicians, there was always alcohol around, and this led to our foray into the world of Guinness Stew.
Later that year, for Christmas, I made everyone in The Commune a binder full of all the recipes that we cooked together. I've been told by a few of them that they still have their binders and have kept adding to them over the years. This time I branched out even further than our settled recipe, by adding bacon, and serving it over mashed potatoes.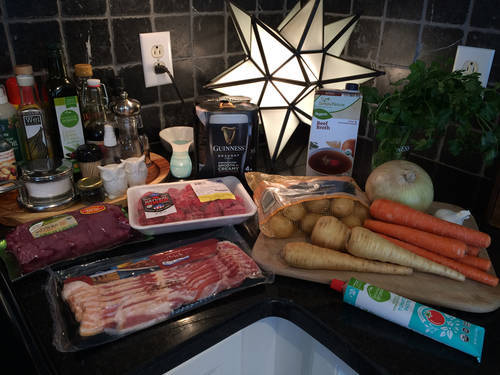 Mistress Jennie's Guinness Stew


Ingredients:
2-3 lbs stewing beef
5-6 slices thick-cut bacon, diced
1 large sweet onion, diced
3 parsnips, peeled & diced
4-5 carrots, peeled & diced
3-4 cloves of garlic, smashed & rough chopped
2 cans Guinness
4 cups beef broth
1/2 cup flour
2-4 T tomato paste
1-2 tsp dried thyme
fresh chopped parsley
1.5 lbs gold potatoes
4 T butter
splash of milk
Directions:
Start by rejoicing in the fact that St. Patrick's Day falls on a Sunday this year, meaning you have the time to cook a slow delicious stew. Invite friends over. Get turned down. Realize this just means more stew for you. Find a good apron. Not your cutesy-pie apron; we're not frosting cupcakes here. A real apron, that will get dirty, that you can wipe your hands on.
Assemble your ingredients. Chop the bacon.
Decide that a lovely afternoon cooking is a perfect excuse to put on some Irish folk music. Look through your phone or iPod and discover that none of your Irish folk is on it. Try Spotify, and realize that just like every other time you've tried it, it doesn't want to work for you. Remember that you still own CDs and dig through them to find something like the Chieftans, only to recollect that it's 2019, and you don't own a CD player anymore. Put the CD in the blu-ray player, and congratulate yourself on being bloody brilliant. Pour yourself a Guinness to celebrate your awesomeness.
Return to the kitchen, and place half of the chopped bacon in the bottom of a stock pot, over medium-low heat. Stir frequently to avoid burning. Dry the first batch on paper towels, while you cook the second batch. Dry the remainder of the cooked bacon on the paper towels.
Turn up the music. Enjoy how nicely that stout is going down.
Pour off most of the bacon grease into a bowl of measuring cup, leaving a bit in the bottom of the pan.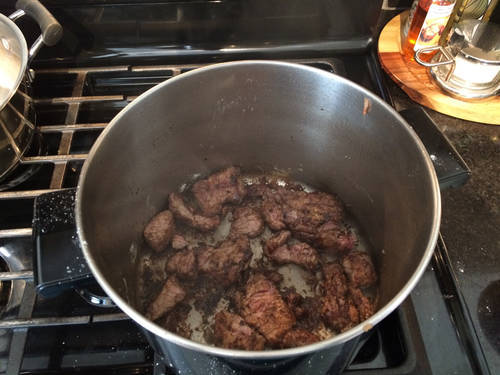 Dust your cubed stewing beef lightly in flour, shaking off the excess. Working in batches, brown the beef cubes in the bacon fat. You don't need it to be cooked through, just nicely browned. Keep an eye on it, so you don't scorch the flour to the bottom of the pot. For reference, my 2 lbs of beef was cooked in 6 batches. Take your time.
When the CD ends, dig out the Cranberries. They're Irish, it totally works. Notice that you've finished your beer. Before you can pour another, bump into the remainder of that bottle of red wine from Friday night, and work on finishing that off. Waste not, want not. I'm sure my Irish grandmother said that…
As each batch of beef finishes browning, move to a bowl, and add more of the bacon fat if necessary to keep the bottom of the pot from getting dry. Bits of browned fond on the bottom are great, but blackened carbon is not.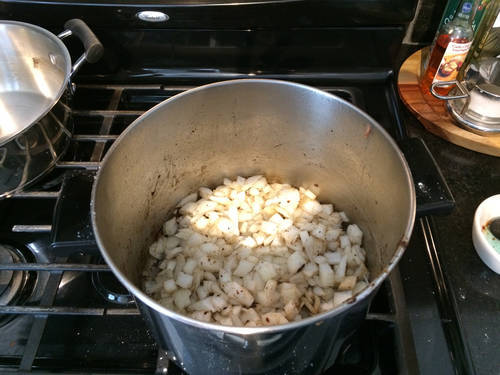 Once all the beef has finished browning, check the bottom of the pot, and add either more bacon grease or cooking oil if you're out of bacon. Add in the diced onions, and stir to coat. Cook for a few minutes until the onions soften a bit. Add in the carrots, parsnips, and garlic, and continue cooking for another 5-10 minutes.
Upon finishing the browning, recollect just how maudlin music was in the 90's. Your day is going too well to be maudlin. Find something more upbeat. Maybe something by the Irish Rovers. Or the Dropkick Murphys. Your call.
Once the veggies have cooked down, pour a little of the Guinness in the pot to deglaze, and use a spoon to scrape up any bits on fond from the bottom of the pan. Add the beef and cooked bacon back into the pot, along with the tomato paste, dried thyme, remaining Guinness and the beef stock.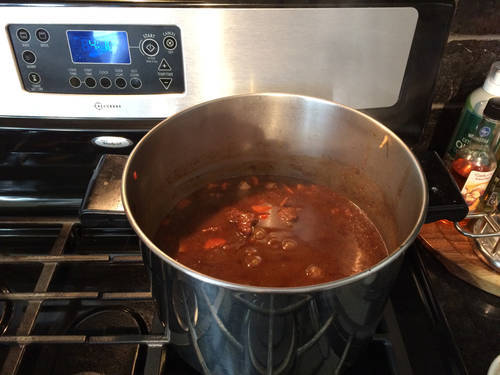 Bring to a boil over high heat, then cover and reduce to a simmer. Simmer for 2 hours, stirring every 5-10 minutes.
Sit down for a bit, while the pot simmers. Finish your wine while checking Facebook. Be saddened by Facebook, and decide you are going to close yours. …until you run into an uplifting and inspiring video about a dog who saved someone's life. Cry a little as you long to pet that dog. That dog is everything. Facebook must stay! Finish your last sip of wine. Realize you should have some water. Find water.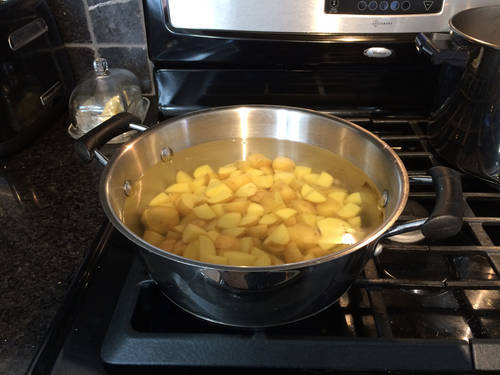 When you have about 10 minutes left on the clock, chop the potatoes, and place in another pot. Pour in enough water to cover, and bring to a boil. Boil 10-15 minutes, or until soft & tender when pierced with a fork. Drain the potatoes, and return to the pot. Add the butter, as well as salt & pepper to taste. Get some of your anger about the English out by using your potato masher to squash them good. Add milk (or preferred milk substitute) to achieve your desired consistency. Cover, and keep warm.
Once your two hours of simmering has elapsed, remove the cover and simmer another 30 minutes, to let the stew thicken.
Place a ring of mashed potatoes around the edges of your bowls. Ladle the stew into the center, and top with the fresh chopped parsley.


Make sure everyone has a beverage, and give a toast to those gathered round your table. Enjoy every moment with those good people.
May you have warm words on a cold evening, a full moon on a dark night, and a smooth road all the way to your door. Slàinte!


Beannachtam na Feile Padraig!