I made a celebration cake for my sister in law's birthday this year (she turned 34). She and my brother are phenomenal hosts, and they always throw wonderful parties in their huge backyard. This time she went with all Cuban foods to celebrate. They made a ton of sandwiches, rice and beans, and an incredible Diy elotes bar (we and most of their guests all grew up in the TX Rio Grande Valley, so roasted corn in a cup with lime/chile/etc is like catnip). My contribution was her cake—and in keeping with the theme, I cobbled together a mojito cake!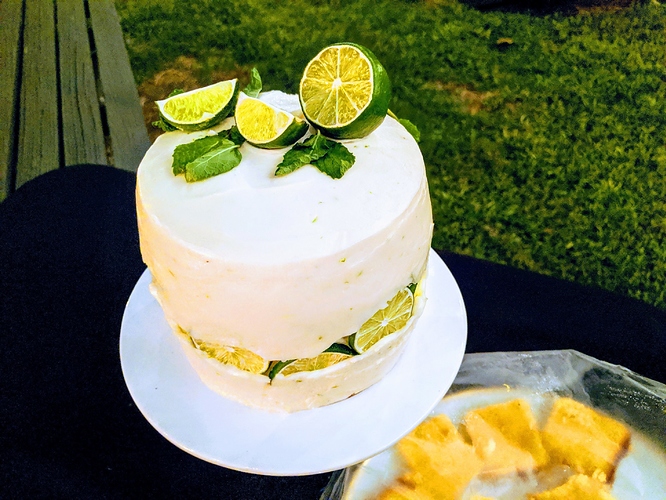 I attempted a fault line cake as decoration (the craze is fading from cake bakers, but it still pops up on my Instagram feed from bakers I admire). I think I might try it again, but it's not my favorite (though I certainly don't dislike it–I just make cakes relatively infrequently and prefer other decor when I take the time

).
Here's a not-great shot in the car on the way. I cleaned up the frosting edges once we got to their house.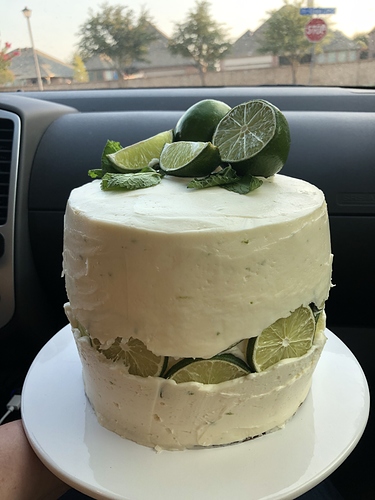 I used this recipe as my jumping off for the cake (it's super delicious as written, too, but be warned–the rum is very present! I added a good tablespoon of lime zest to the cake. I also used 1/4 c lime juice instead of the water in the syrup and added a ton of lime zest and chopped fresh mint when I added the vanilla off heat. I baked three six inch layer cakes rather than in a bundt.
And here's the frosting! I added lime zest, chopped mint, and more rum to taste (several tablespoons of each).