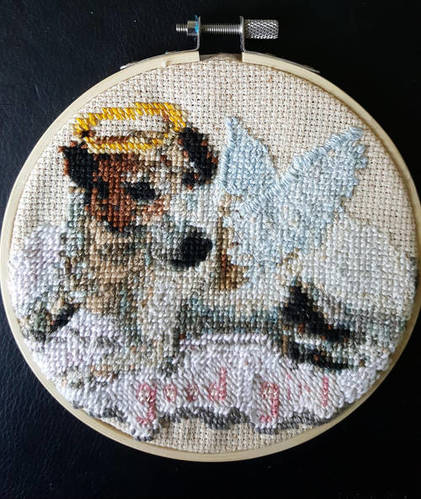 Here is one I completed and never posted a couple years back, when the sweet @kittykill pup Jujube passed away. Kittykill's furry kids have always made me happy, and I've never even met them, so I could only imagine how hard it is in their house when one of these lights stops shining. So when I saw that she was seeking Jujube art, I really wanted to jump on a project.
I stole a photo kk had posted of her (sorry for the theft), drew the wings and halo digitally, then converted the image into a chart using one of the free sites that offer this service. I lived hours from a major craft store at that time, so the only hoop I could find was a little smaller than I'd intended, so a lot of her and the clouds needed to be removed (after stitching, ugh) to fit.
Now that I'm looking at it I am uncertain whether it was needlepoint or cross-stitch; my eyes and memory are failing me!

I see various things I wish I'd done a little differently, but I'm going to learn from those instead of kicking myself.

So from that mindset, I welcome suggestions for other stitches and techniques you would recommend to make something like this technically-better.
It's intentionally hard to see, but in the clouds it says "good girl". She was certainly a special girl, who won't be forgotten!