My husband's cousin recently became engaged. He's a graduate and huge fan of Ohio State University (as many Ohioans are). I am not an Ohio State fan nor am I an Ohioan (regardless of if that is what my driver's license tells me) but I digress. I like to joke that I was lucky my sewing machine didn't break down. Ha!
I was inspired by @Edel's Green Quilt , which follows the "Craftsman Pattern" by Amy Smart. I found it on Etsy.
It is made to use fat quarters, but I bought the novelty fabric (well, all the fabrics) in yardage. I did the math as best I could. Luckily I have extra (even Ohio State, ugh) of all colors. I accidentally cut the OSU fabric the opposite direction of the pattern, so the length and width I made are run the opposite way, but oh well.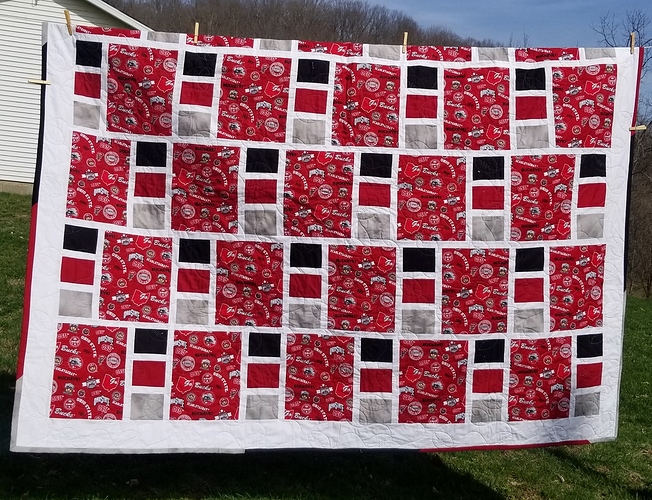 My clothesline brings the quilt too close to the ground to see it all in one shot. It's about 86" by 72" or close to that.
I was really excited by the football quilting pattern my LQS had.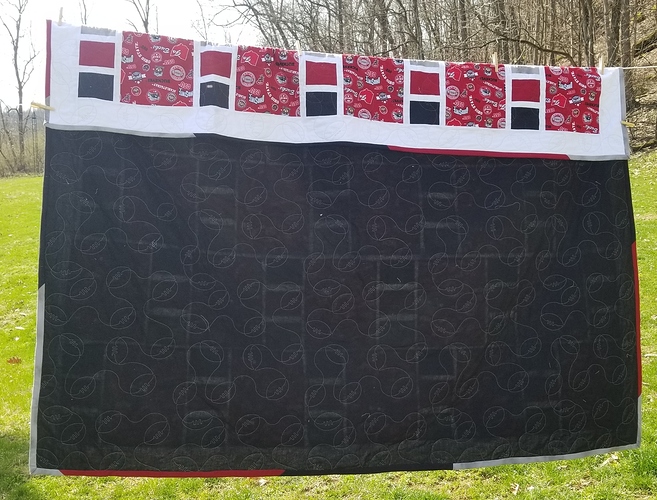 I didn't want to buy more fabric, so I decided to alternate red, black, and gray for the binding. It looks cool!
I machine sewed the front and hand-bound the back.
The wedding is supposed to be in August. Let's see what our dear "friend" coronavirus says about that. In the meantime, I will store it in a safe place as far rom germs as possible.
searching for that place but before I do that, I must put a label on the back. Time to do @AIMR's suggestion and print out something Michigan for my label. I'll add a pic when I do! Haha!
Thanks for looking.