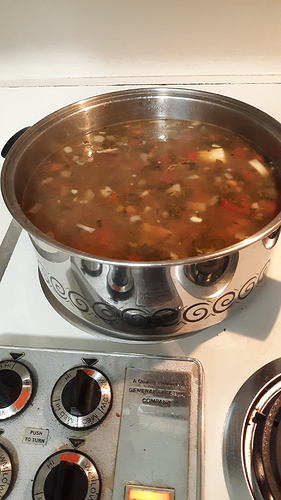 My husband is normally the grocery shopper and cook in our two person family. However, he is currently rehabing from having knee replacement surgery, so I am left with these chores.
For NYD, I cooked the traditional black eye peas, collards, cornbread, etc. As usual, we have leftovers. The best thing we like is potlikker soup. Easy peasy.
Brown an onion with leftover ham or pork, chicken stock, and throw in the leftovers plus a can of diced tomatoes. I had a few boiled potatoes left from another meal that I threw in as well…it will be an odd surprise for whomever finds them.
Since this is such a huge pot and I don't want to eat leftovers forever, I am going to take some to our elderly neighbors next door. This is a really nutritious soup…particularly fiber and iron. There is a lot of leeway in making soups, which makes it easy for a non-cook like me.