This has been a weird school year, for sure. It started with our beloved school secretary retiring Jan first. She and the principal had a "pact" they would retire together, and right before Spring Break, the principal announced to staff she would retire at the end of the year.
My art teacher friend and I purchased a tote and got most students thumb prints and their names on a bag for the secretary which she loved.
The last 4 years or so we've had an art "auction" (sale) of student artwork and last year we raffled a mini quilt I made with student art. This year, I made a bag with 4th grade art. The Spring Concert/art auction would've been in a few weeks.
Moving along: blah blah, my friend and I decided I would make a different bag, but with art from students in all grades, to gift the principal for her retirement. So, I took tons of pictures! I was anticipating a busy spring with soccer and sub teaching. I did not anticipate our life as we currently know it.
Anyway, today, I finished the bag for the principal. It uses both the same outside and inside fabrics as the other (posted somewhere here…I'll search on a computer…maybe).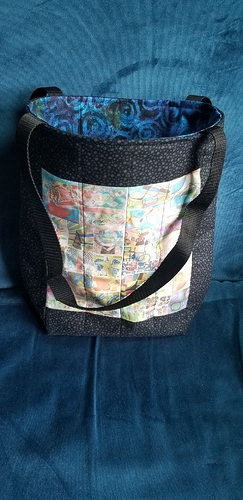 60 images! (About 4 are accidental repeats, oh well.)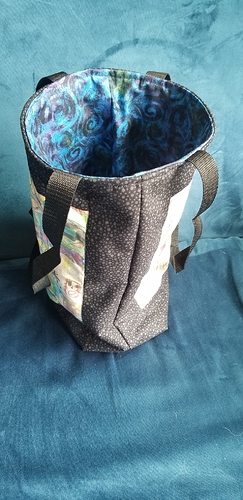 Now, hopefully I can get this gift to her, as well as my just general thank you, and gifts for the 6th grade teachers, too.